Increased Supply Meets Increased Demand
The number of apps available for download in the Apple and Google Play stores have grown exponentially over the past five years.
Apps Available within Major App Stores
According to 2020 a research study outlined by Statista, approximately 2.87 and 1.96 million apps are now available in the Apple and Google Play Stores.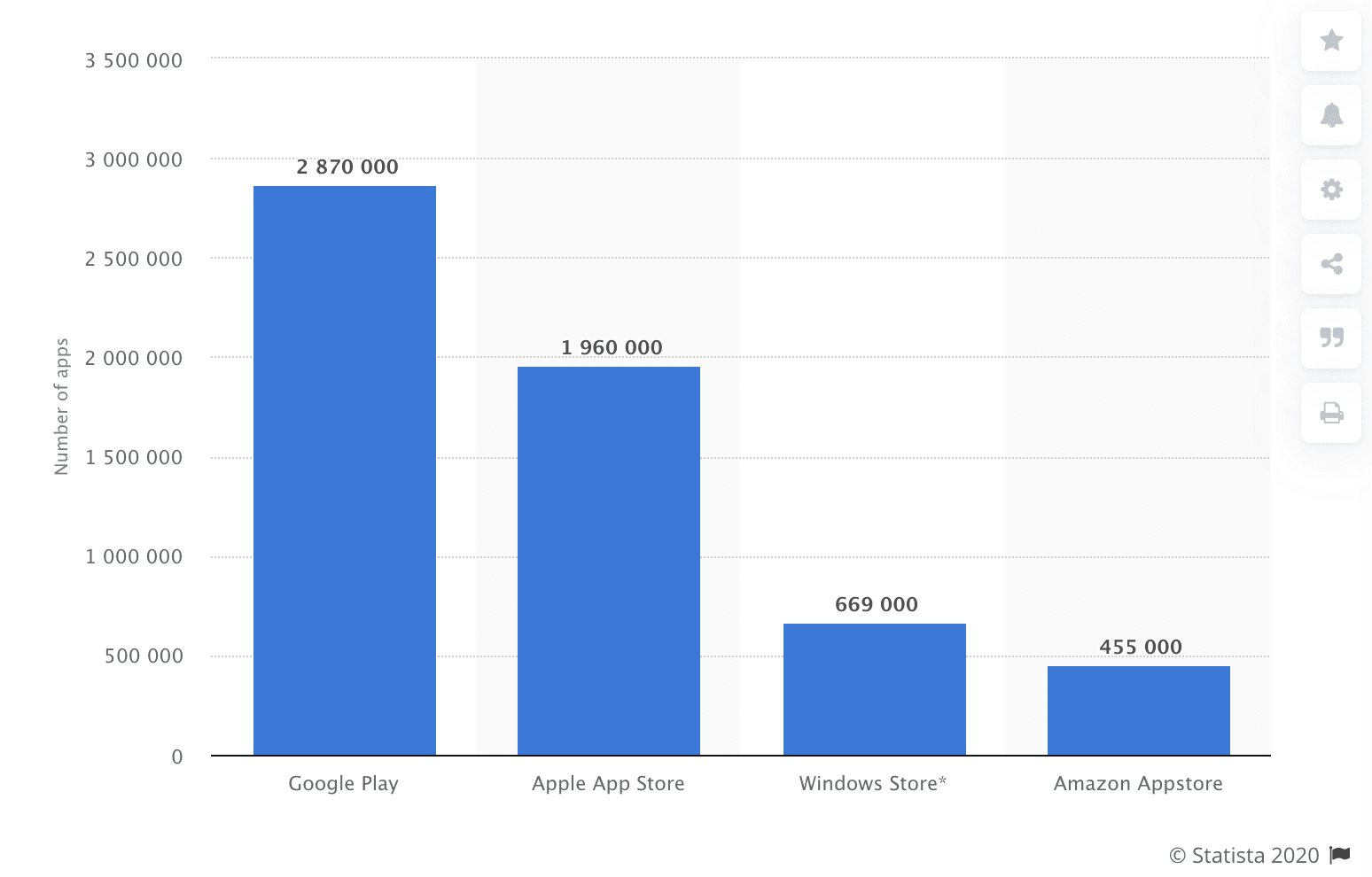 Apps Downloaded Last Year in 2019
And meeting this increased supply is an equally increasing customer demand waiting to download them.
Another study from Statista found that an incredible 204 billion apps were downloaded worldwide in 2019 — up 6% from the previous year, and up 45% from 2016.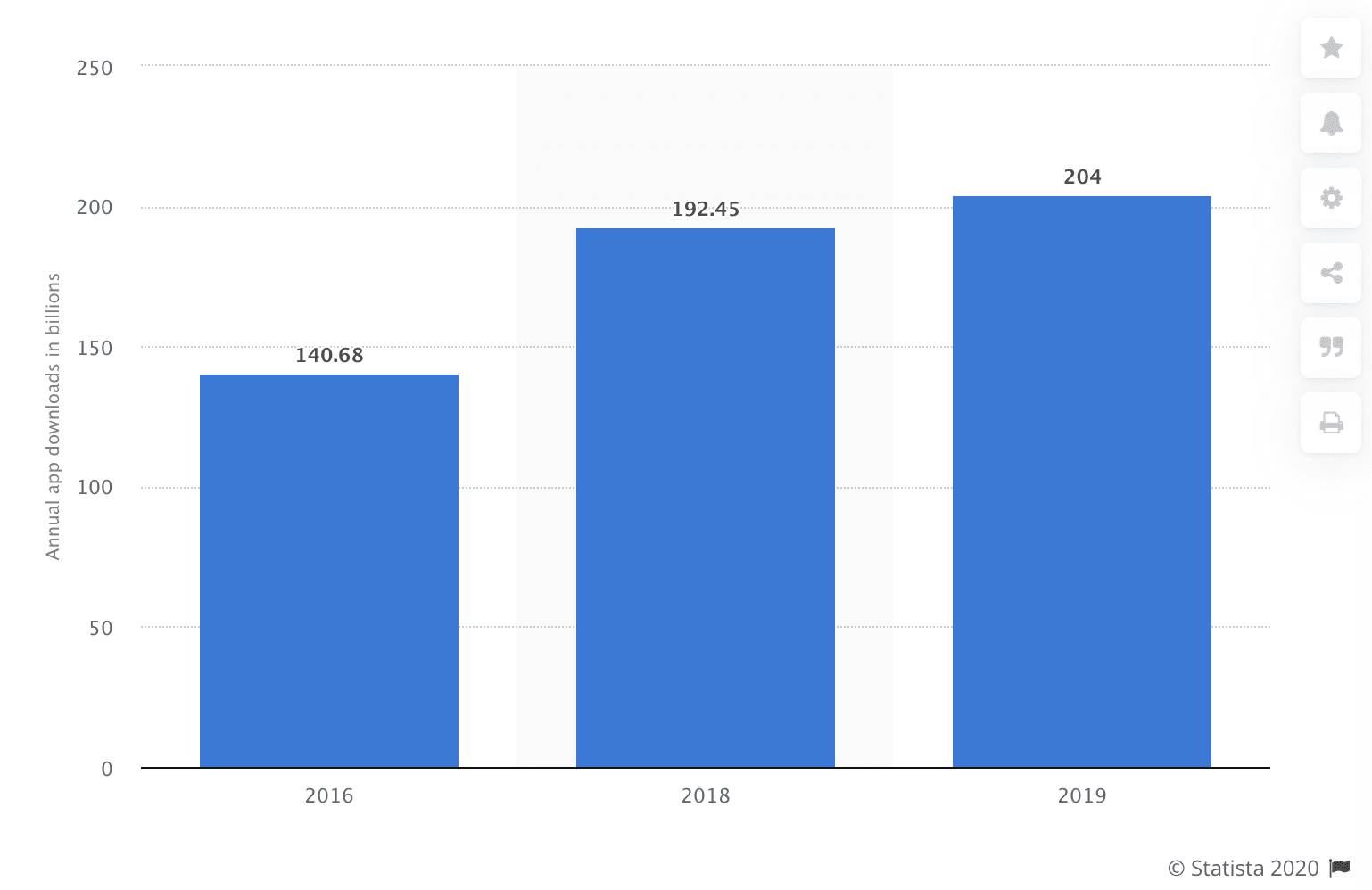 Quantity of Monthly App Users, Tablet and Mobile, 2020
As we nearly wrap up 2020, it seems that we aren't letting up the petal in terms of mobile app use. EMarketer research suggests that the quantity of monthly mobile app users have increased by nearly 3% YoY, while the quantity of tablet app users has increased by nearly 2%.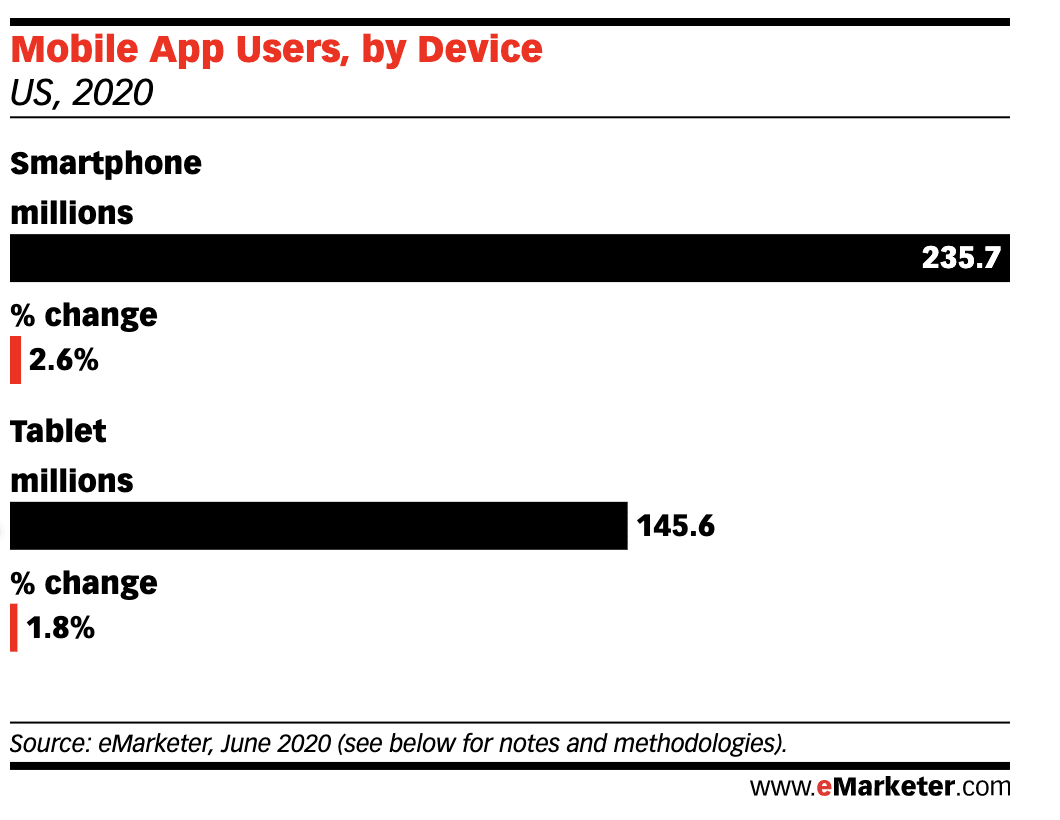 Pandemic Influence on Time Spent with Apps
The 2020 pandemic has also made a significant impact in the average time spent per day with mobile apps across all countries. In the US where this blog is based, we've seen an average of 3 hours per day spent with apps in Q2, up 10% from the same time period last year.
What These App Trends Mean for Marketers
These app trends mean two things for online marketers:
One, that app stores are becoming an

increasingly valuable

channel for your clients to invest in.
Two, they're becoming an

increasingly competitive

channel to stand out on. Which means it's in your clients' best interests for you to get serious about app store optimization (ASO).
My Client Has An App — But How Can I Make it Stand Out?
While there are numerous worthwhile elements to optimize within an app store listing the best place to start is what ASOs call the [first impression frame]. This refers to all of the cumulative elements that live above the fold in an app listing, including: the app icon, title, subtitle, ratings, "what's new" section, preview video and screenshots. Make sure it looks impressive!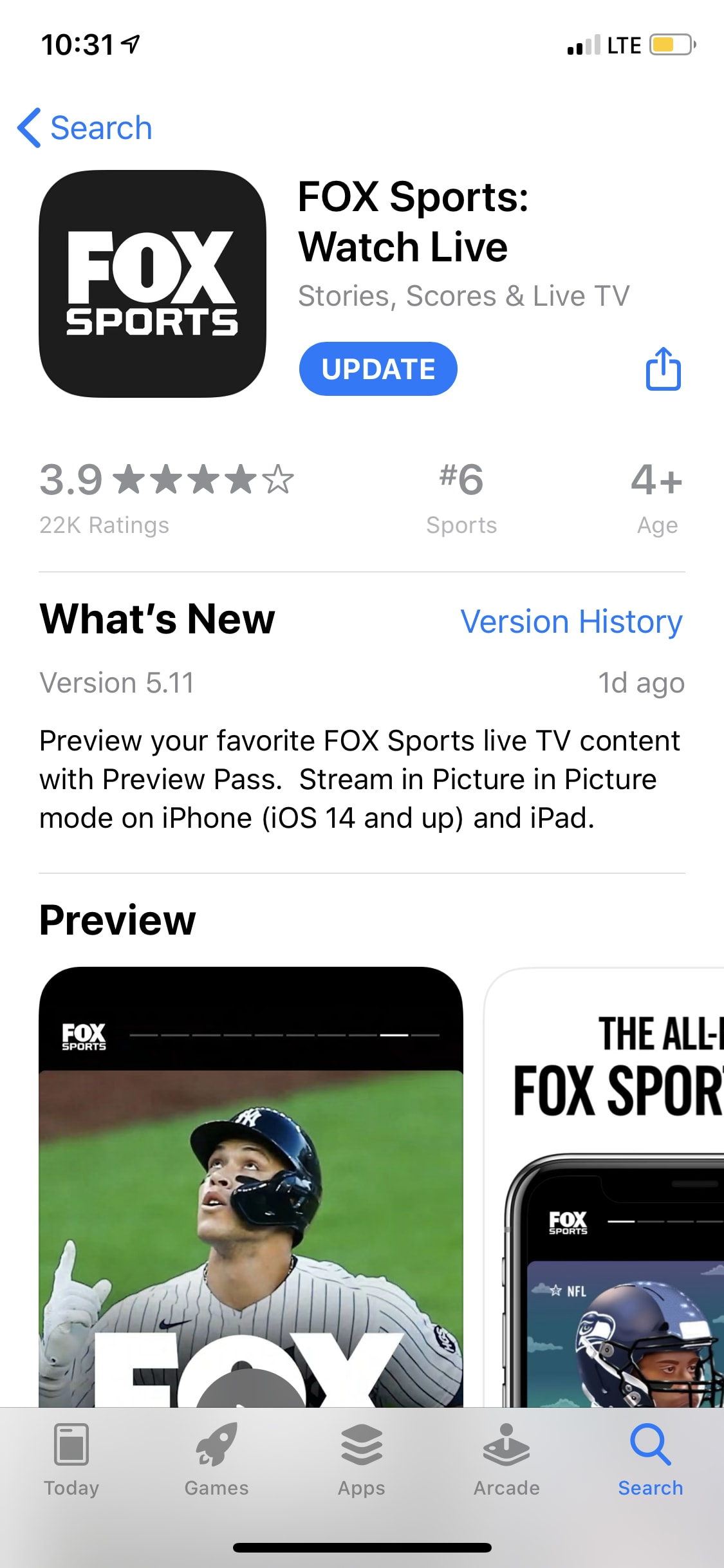 An estimated 60% of all app store visitors to install or leave without ever engaging (e.g., scrolling further down) on an app's page. Meaning, it's the only section they get exposed to. By making above the fold items look as best as possible, online marketers will be making the biggest impact in helping drive visibility and downloads.
In fact, research has indicated that optimizing elements from the first impression frame alone have been known to increase CVR of downloads up to 26% from both stores — with particularly impressive lift associated with creative assets such as the app icon, video, and screenshots (see visual above).
Not sure what to optimize? Using third party A/B testing tools like Store Maven is an excellent, data-backed way to enhance your app's performance within the iOS and Android app stores.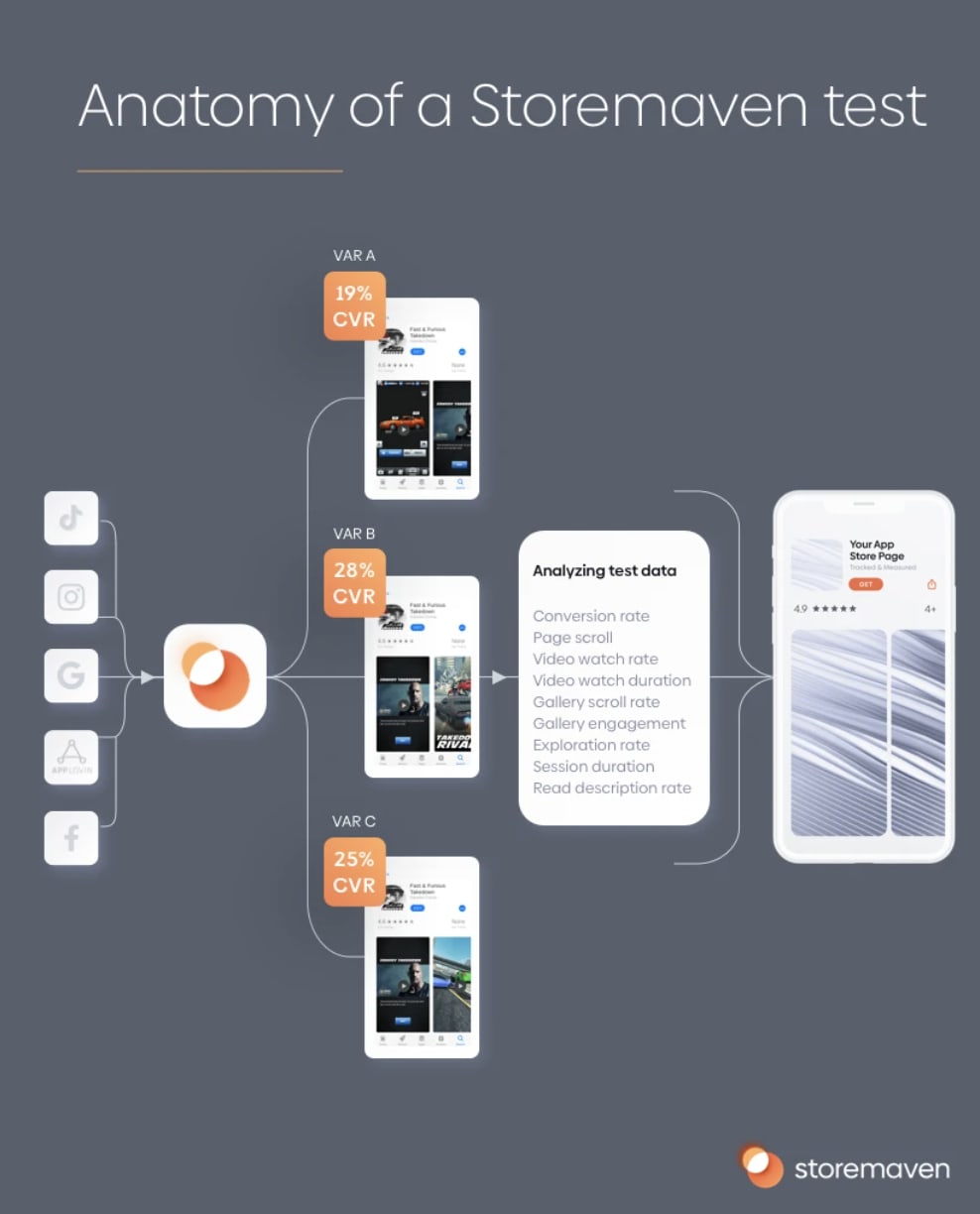 You can check out more detailed ASO recommendations here.
Wrapping Up
The app industry has been growing exponentially over the past five years — from the number of apps available to download in the app stores, to the number of downloads being made, the the quantity of app users. Then pandemic has also played a significant influence in the average amount of time spent within apps.
These data points together offer a compelling reason to encourage your clients to create a app for its loyal fan/user base, and investing time and resources in ASO (starting with the first impression frame) can help get the visibility they need to succeed within this growing channel.
This post was originally published in 2019, and has been updated for 2020.
Elizabeth Lefelstein
SEO expert with a specialized background in news, entertainment, and real estate websites | USC EMBA Candidate '24 | Based in LA | Can I pet your dog?