If you were to ask many digital marketing consultants about App Store Optimization (ASO) services just 3 ago, and you'd be hard pressed to find one with a long list of clients and case studies. But the app business industry has grown quickly, making it increasingly valuable–and competitive–for brands' apps to be found and installed. And as a consequence, more (but still, not many) digital marketers are beginning to specialize exclusively in this area.
Agencies and in-house brands are increasingly hiring ASO consultants to help them increase their visibility in the Google Play Store, Apple App Store, and on OTT devices.
Don't believe me? Do a quick search on LinkedIn. My top results show that Electronic Arts, Apple, Uber, and Microsoft are all currently looking for this particular skill set.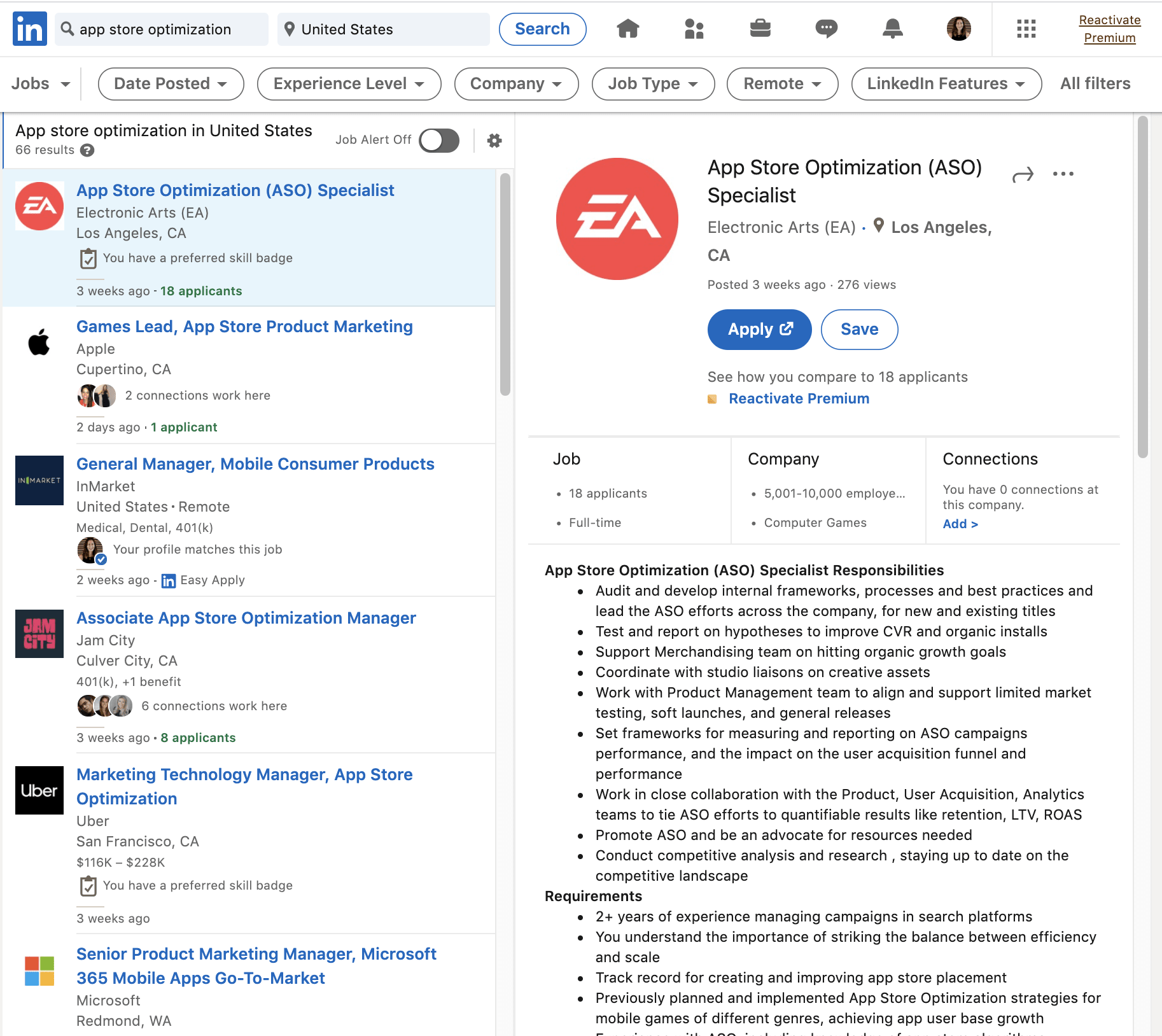 I've worked with a variety of enterprise-level apps throughout my career, spanning across the entertainment/media, financial, and e-commerce beauty industries. I've learned a lot over the past four years, would like to share a few useful insights.
Specifically, we'll get into:
The growth outlook of the ASO industry
Most common ways that people discover apps
Optimizable elements to improve ASO performance
The Growth Outlook of the App Industry
(Yes, It's Still Growing)
To keep this section short and sweet, there are two key take aways that I think are important for digital marketers to be able to communicate effectively with clients.
One: This is where people's eyeballs are
U.S. adults now spend 4 hours of screen time on their phones a day, up +2% from last year. And of these 3-4 hours, industry experts estimate that 88% of this time takes place within mobile apps. (Based on 2020 eMarketer data.)
Two: The app space is an increasingly valuable and competitive space to invest in
Virtually all of the Fortune 500 companies have apps (I've checked myself). Plus, there are now more than 2.8M apps available in the Google Play Store, and 1.9 apps available in the Apple App Store as of Q3 2020.
Virtually all of the Fortune 500 companies have apps. Plus, there are now more than 2.8M apps available in the Google Play Store, and 1.9 apps available in the Apple App Store as of Q3 2020.
Most Common Ways People Discover Apps
There are six core ways users discover new apps. For an app to be truly successful, it's important to the company to consider all four of these areas:
Traditional word of mouth (recommendations from friends):
Within the App Store (App Store Search, Categories, Today Tab, etc.):
Within traditional search engines (like Google)
Referrals (from external blogs/influencers)
The company website (website exploration)
Ads (on TV, social media, other apps , etc.)
A 2016 research study conducted by Think With Google (this is truly the best combination of reputable + recent study I could find even in 2021) breaks this down further. Note that these numbers will not equate to 100%. The way that Google conducted the survey, it asked respondents IF they use these methods for discovery, rather than what their one primary method is.

In the coming section, I'll review 13 of the best elements that you can optimize for your clients' apps to help them get greater visibility and downloads.
Optimizable Elements To Improve ASO Performance
Every element of your App Store product page has the power to drive downloads of your app. (For those who specialize in SEO or Paid Ads, these elements should be pretty recognizable.)
1) The App Icon
Creating a unified look and feel throughout a user interface adds value to your product starting with the app icon. Though not a direct rating factor, App icons are a vital component of brand awareness, as it's often one of the first things users see in the App Store. Icons are shown in several places throughout the platform, at several sizes.
Best Practices:
Utilize unique shapes, bright colors, simple imagery, and avoid too much text.
Align it to the in-app color palette. Designers typically recommend using 3 colors, following the 60-10-30 rule. However, plenty of successful apps break this rule.
If you have a game, consider testing various characters within the app icon to drive clicks and installs.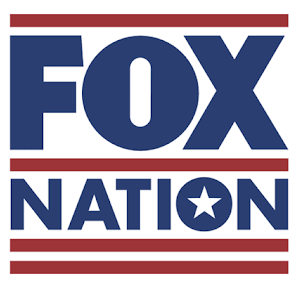 2) The App Title, Subtitle, and Keywords
App titles and subtitles are the most valuable and direct ranking factors in the App Store. It can only be changed when submitting a new version of the app. Best practices include:
Title: Brand name and target keywords
Subtitle: Describe apple's unique value proposition.
< 30 characters
Unlike app titles and subtitles, iTunes app keywords aren't seen by users. They are meant exclusively to support Apple's algorithm / understanding of what to rank the app for.
Best Practices:
< 100 characters, separated by commas and no spaces.
Don't repeat terms that are already used in your app name or publisher name it's a waste of space!
Perform keyword research to learn how users are searching for your type of service, and specific search volume of relevant terms to know to optimize all app elements.
Apps that follow these meta data best practices are known to rank 10.3% higher than those that don't. It also increases the likelihood they show up for single snippets on mobile search.
3) Descriptions and Promotional Text
App descriptions are an indirect ranking factor in ASO, being key players in driving downloads. They explain to users the app's unique value proposition, features, and benefits. Best practices include:
Lead in with why you made this app, then how this app will revolutionize your target demo's life, then talk about what features it has, and end with what you created to help them (i.e.: the app). This strategy called the "golden circle", made famous by Ted Talk speaker Simon Sinek
Be sure to use calls to action, and long-tail keywords, especially within the first three lines of text. Plus, bulleted lists of top features and emojis (if it's on brand). These help catch people's eye.
Keep it under < 4,000 characters.
Promotional text is displayed in the same field as the description at the very top, though it doesn't count toward the 4,000 character limit. Unlike the description, it can be updated at any time.
Best Practices:
Keep it < 170 characters
Use it to call out new features, in-app promotions, or the app's core feature.
Remember that "people don't buy what you do, they buy why you do it." In other words, inspire others to take action by finding similarities with them / provide a quality solution to a problem they may face.
4) Screenshots
App screenshots help you to generate a good first impression, allow you to unveil the most important features of your app immediately, and helps the user feel like they are making a better informed decision.
In early 2018, Apple quietly released an update to allow app developers to upload up to 10 screenshots, up from previous cap of 5. And of these 10 spaces for screenshots, 3 can be video previews (more in the coming section). As of 2021, this is still the case. The Google Play Store on the other hand, allows for 8 total screenshots.
Your iOS app's first three screenshots will appear within search results before you actually click through to the dedicated listing page. Which is why, they are the most important.
Note that my use of the word "screenshot" is a bit of a misnomer, as they could be a combination of preview videos as well.
If you do have preview videos for your app, it's typically best to front load one at the beginning of your screenshots list.
Best Practices:
Showcase your app's best features first, and only showcase one feature at a time. Use calls to actions in text banners above each screenshot.
If you want your app to break into other markets, you're going to need to localize both the graphics and the copy.
Consider if your app should use portrait, landscape, or hybrid style screenshots (Industry testing tool, StoreMaven, found that 95% of the top apps utilize portrait galleries, while 63% of the top games utilizing landscape galleries)
Keep testing. Try different landscapes, calls to action, graphics, orders of screenshots, etc. Never apply your learnings cross-app-store. What works well on the Apple App Store might not work on the Google Play store–and vis versa.
Popular ASO industry testing tool, StoreMaven, has contracts with some of the biggest brands in the US–including HBO, TikTok, Uber, Warner Brothers, and Yahoo to name a few. Their tests with leading mobile developers have shown that an optimized gallery on the Apple App Store can boost conversion rate (CVR) by up to 40%.
[StoreMaven's] tests with leading mobile developers have shown that an optimized Gallery on the Apple App Store can boost conversion rate (CVR) by up to 40%.

StoreMaven
Note: This post is NOT endorsed by StoreMaven, I just really think its great. I also like Optimizely.
5) Preview Videos
App preview videos are the brief videos that can accompany app store listings. There are many documented benefits of incorporating a preview video your app listing, including:
Increase install rates by more than 25%
54% of the top 50 free apps utilize video.
48% of the top 50 paid apps utilize video. 84% of the top 50 grossing apps utilize video.
Best Practices:
Your Poster Frame (thumbnail) is the most important part of your video. Use a strong visual, a snappy caption, and your best app unique selling proposition.
Keep them short (~15-30 seconds). Statistically, 10% of your video watchers will drop every 5 seconds.
You can have up to three preview videos. That said, put your best foot forward by placing your most powerful video first in the queue.
Localize for your top languages and countries, and consider seasonality when making updates (i.e., season premiers, holidays, annual events, new feature launches, etc.)
Be sure weave in actual screen recordings of what the user experience looks like in-app. This will improve the quality of the downloads that your app receives–since users already know what to expect.
Unlike screenshots where it is best to showcase just one feature at a time, a single preview video can showcase multiple interesting features available in-app. In the FOX Now example above, we see that the app offers personalized recommendations, the ability to add multiple shows to your 'watch list', and watch live TV.
Unlike screenshots where it is best to showcase just one feature at a time, a single preview video can showcase multiple interesting features available in-app.
6) Version Updates
App update cycles are a direct rankings factor in both the Google Play and Apple App Stores. The best practice here is to update 1-4 times a month ironing out any known kinks or adding new features.
Version updates are visible to users within an app's store listing page, just under the short description. The more helpful your description is, the more inclined users will be to update to the latest version.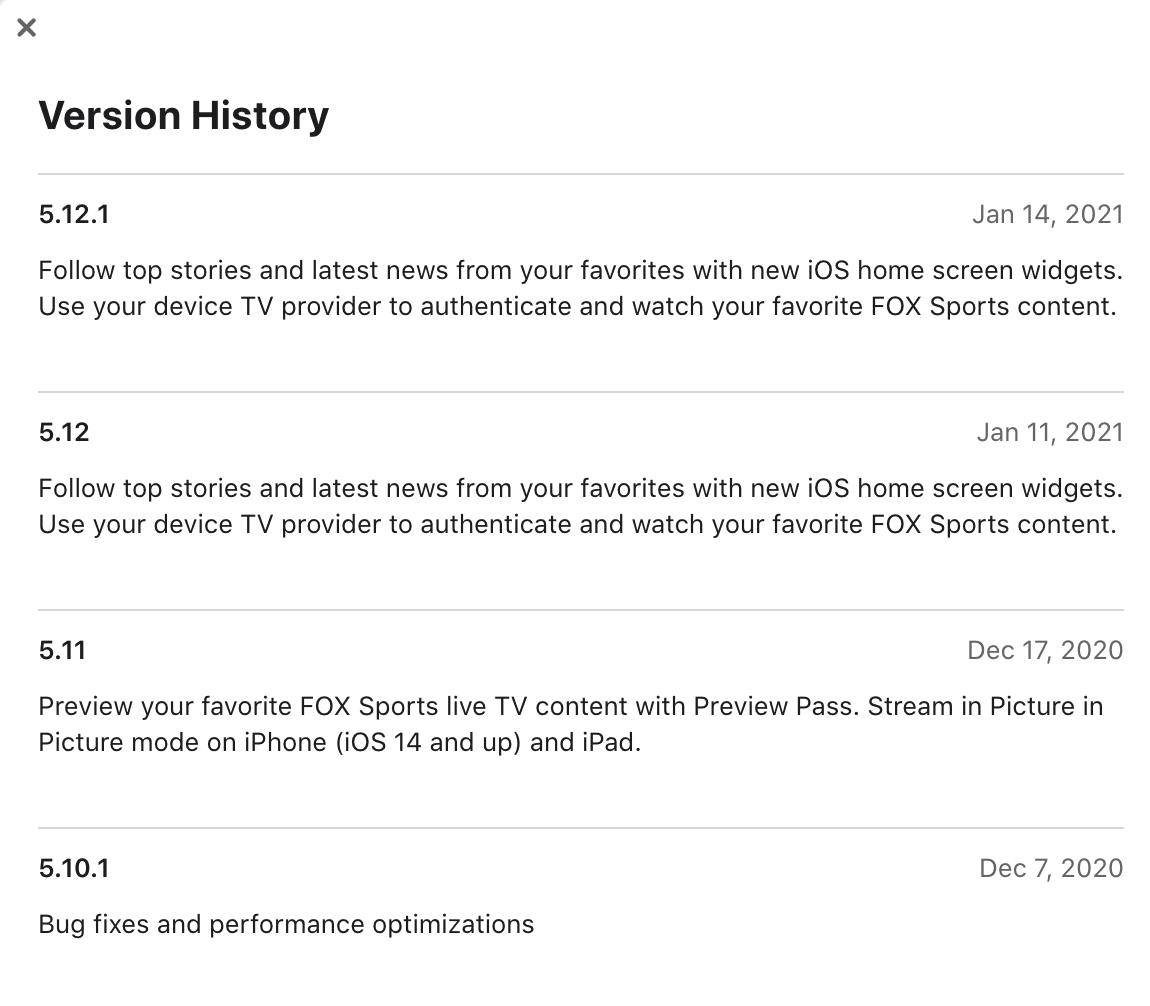 Frequent updates help:
Build a stronger, more loyal fan base, by showing you care about routine maintenance.
Amplify top of mind awareness, by showing up in the "Updates" section of the app store.
Stay competitive, given that competitors are likely making iterations of their own apps as well.
7) Ratings and Reviews
Ratings and reviews are direct ranking factors in ASO. They are also helpful for identifying user pain points or features they most admire. Not to mention, they act as UGC to persuade others to download as well!
Common strategies for earning high quality reviews include:
Installing pop up plugins (with messaging like: "Are you enjoying the app?" "Would You Like To Rate Us Five Stars?")
Improving in-app customer service functionalities.
Social media contests.
App review websites
8) Internationalization and Localization
Internationalization refers to the process of designing an app in a way that it can be adapted for different languages/regions without future engineering changes. Both the Google Play and Apple App Stores make this step super easy.
Localization on the other hand, refers to actual process of optimizing an app to meet the language and regional components of a specific market. The two biggest benefits of localizing an app is that it opens doors for new customers, and improves user experience for native v. Second language speakers to choose their native language.
Note that localization is more than "just translating". Many different countries have people who speak the same language, but have different regional expressions (e.g., Mexican Spanish v. Spain Spanish). For this reason, it's important to take special care in what consultant/third party tool is used for keyword research and translations.
Localization is more than "just translating". Many different countries have people who speak the same language, but have different regional expressions (e.g., Mexican Spanish v. Spain Spanish). For this reason, it's important to take special care in what consultant/third party tool is used for keyword research and translations.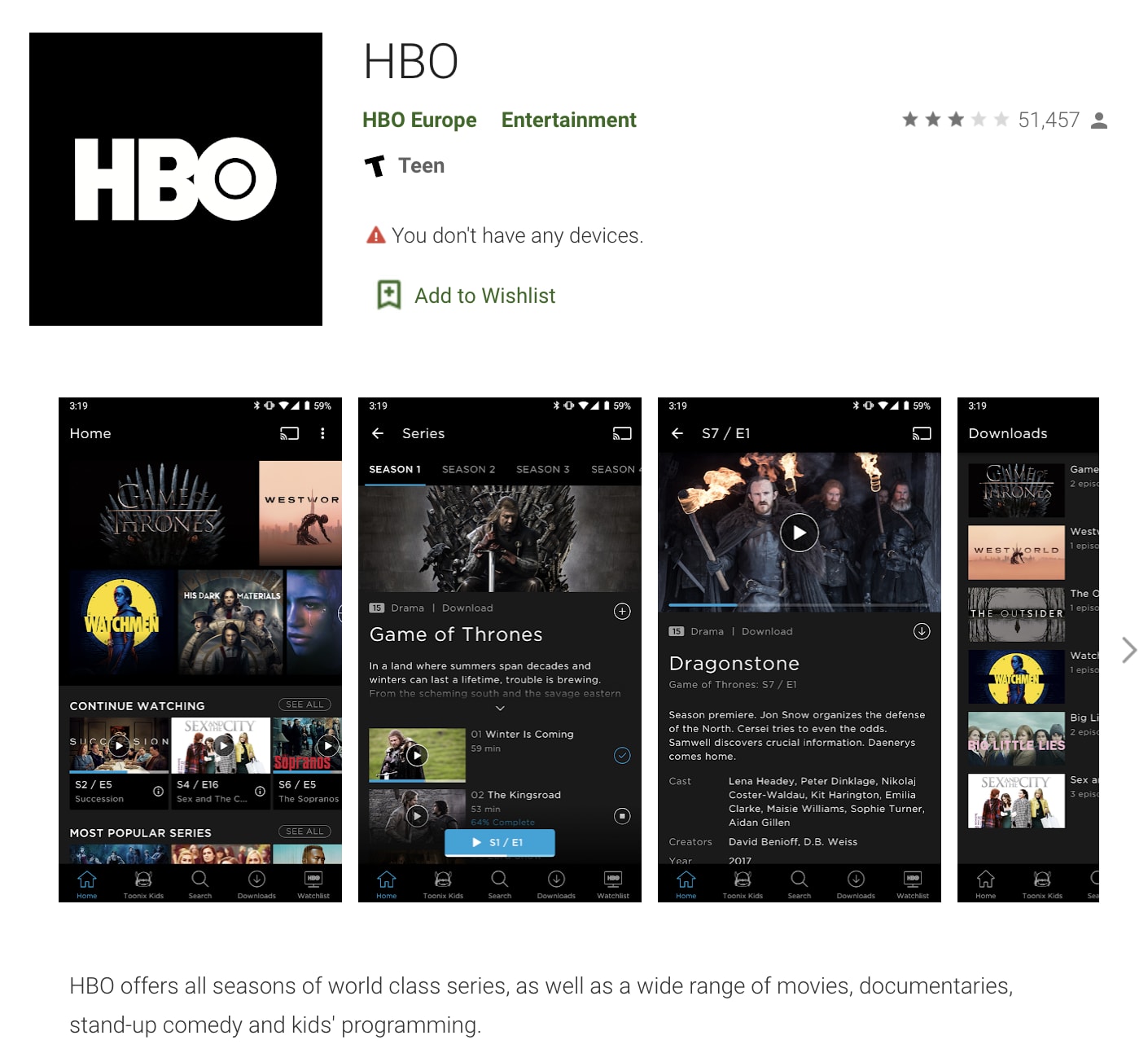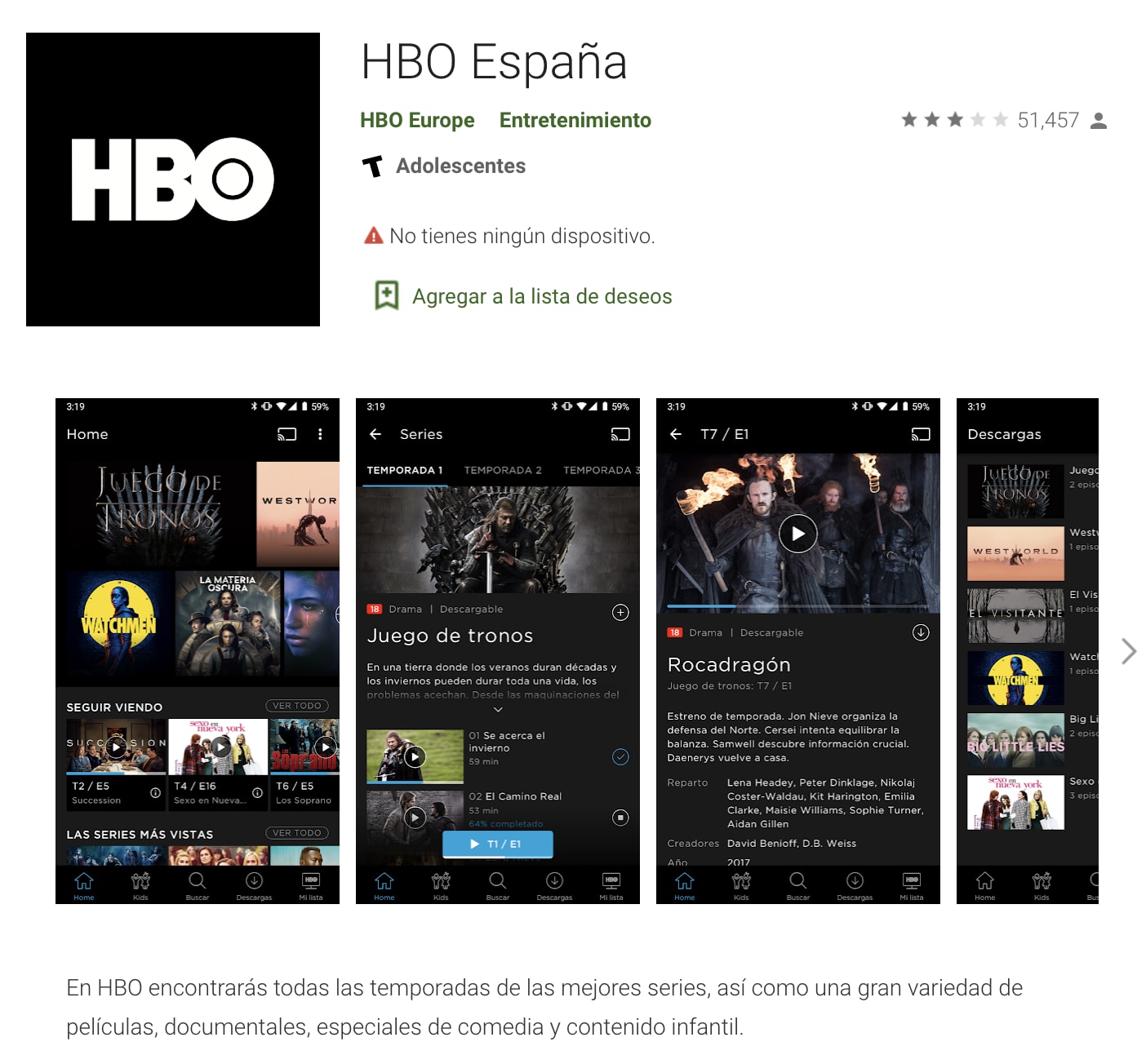 Aspects to optimize include:
App title and description
App preview video and screenshots
In-app content
9) Backlink Profile
Backlinks from highly authoritative domains are a direct app ranking factor, and a great way to boost the organic visibility in general (website landing page + app stores). I recommend using SEO tool, Ahrefs to track this type of information.
Example of Ahrefs' backlink profile data for FOX Now's English/U.S. version of the Google Play app store listing.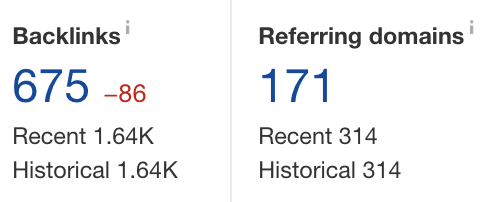 ASO insights platform, Mobile Action explains the importance of ASO the following way:
Apple doesn't incorporate anything from outside the App Store in order to rank apps. However, the Google Play Store does incorporate some SEO into its store rankings…The higher the quality, quantity, and relevance of your backlinks, the better you will rank in the store.
10) Website Landing Page
A website landing page dedicated to promoting your app is an invaluable marketing element for several reasons:
Offers another platform on the internet for your app to earn backlinks and rank for keywords.
Offers a much more customizable platform for hyping your clients' app up than the app stores do.
Acts as a valuable resource for app store referral traffic–mobile visitors can tap and download the app instantly!
Great for outreach efforts, creating a home base for blogs/publications to link to.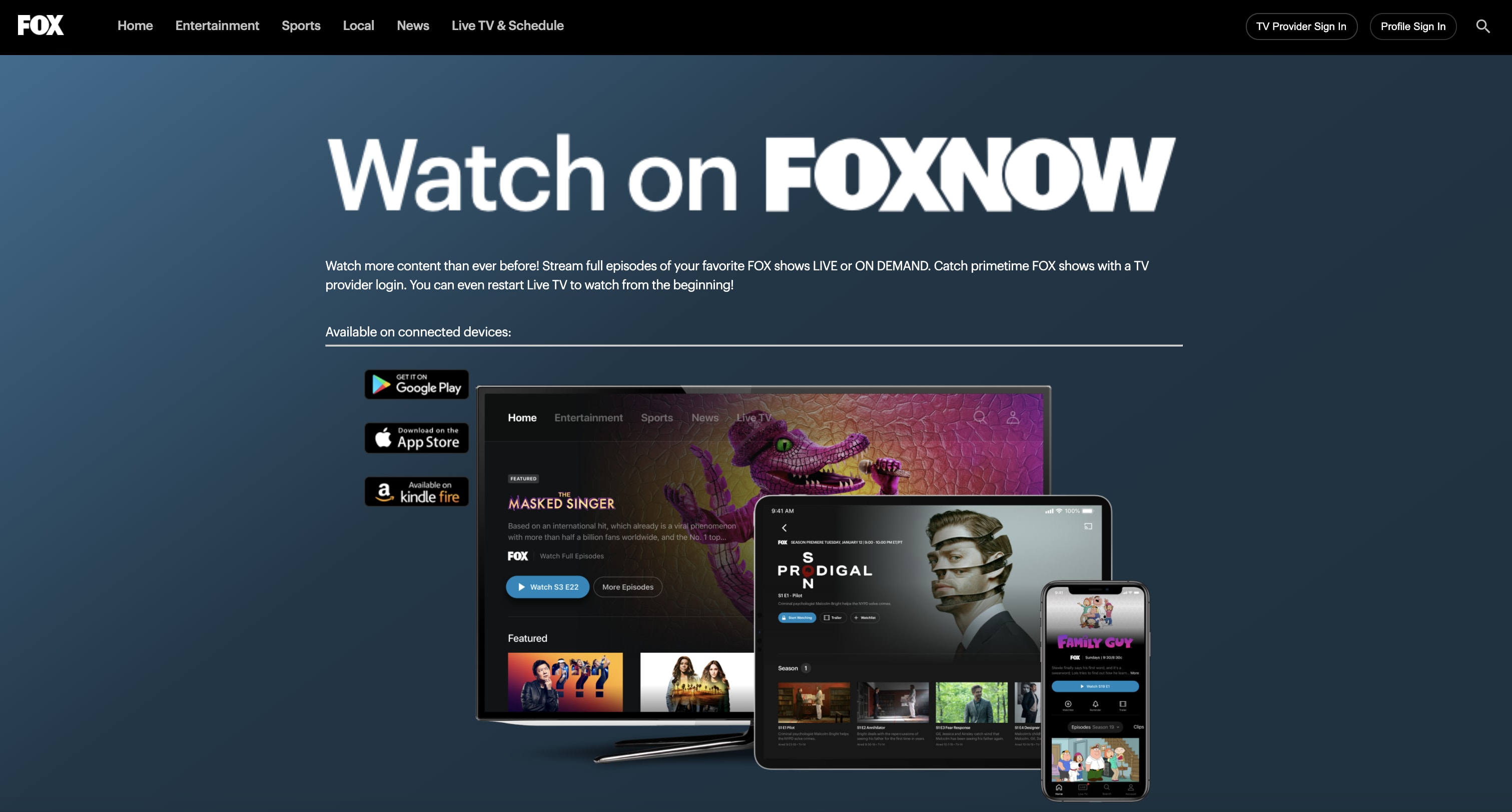 Best Practices:
Optimized for Mobile–including responsive design, configured viewport, legible font sizes (Google recommends +16 px), and large tap targets.
Fast pagespeed–on mobile and desktop.
Direct links to all app stores the app is available on.
Answer consumers' FAQs about the app (will require keyword research).
Screenshots/videos of the in-app experience.
11) Deep Link integration
Deep links are links which, when tapped, send users to an app instead of another web page. This allows users to move between the web and apps seamlessly. In other use cases, deep links can also send users to specific pages within an app, or an app store (if the app is not installed).
Benefits of deep links include:
Drive more app installs
Simplify the on-boarding process
Enhance UX
Easier campaign tracking
Both Apple's iOS and Google's Android provide their own standards for how to implement deep linking. Apple calls their version "Universal Links" and Google calls theirs "App Links", but they are roughly the same thing.
12) Smart Banners
A mobile smart banner uses a fraction of the screen on a mobile website to inform and encourage users to open the native app, or install it if they don't if they don't have it. They are a useful way to generate more app installs, which is a direct ranking factor.
While Google Smart Banners are limited to only iOS Safari (by adding a short meta tag in the header), there are several third-party vendors that offer Universal Smart Banners that can be used across any mobile device or search engine.
13) App Packs
One in ten mobile searches in Google now include a suggested App Pack. For non-branded searches, the most common opportunity for an app to rank in the SERP was via app pack.
An App Pack can include 3 or 6 applications that are relevant to the search keyword, and will only show apps that are compatible with your device. They link directly to the corresponding app store listing in the App Store. They are more of an outcome of good optimization than a ranking factor themselves. However, getting featured does drive install rates (which is a ranking factor).
Qualities of Apps that get featured:
Keywords in App Store URL string, title, and deinscription
User ratings/reviews
Page listing authority and backlinks
The app business industry has been growing exponentially over the past three years, yet it's still a relatively niche specialization within the digital marketing world. The elements and best practices listed above are some of the key ways to drive app store clicks and downloads for your/your clients' apps. For more advanced strategies, shoot me a message here.
This post was initially written in 2018, and was updated on 1/18/21 to reflect 2021 best practices.