The new video streaming service Disney+ was launched yesterday, November 12
And despite some temporary snafus, it is anticipated to become a real powerhouse within the industry – with as many as 10 million sign-ups since launch. Naturally, many of the sign ups are from families in search of kid-friendly content.
"Every streaming service that's launched at scale has had problems," said Dan Rayburn, a longtime streaming industry analyst and consultant.
So what exactly does the launch of Disney+ mean for other, top dog video streaming services like Netflix, Amazon Prime, and Hulu?
Or even newer streaming services – such as FOX Nation (February 2018), Apple TV+ (earlier this month), and Peacock (early 2020) – for that matter?  
News sites have referred to Q4 2019 as the dawn of 'streaming wars' or the 'streaming apocalypse'. News site, Vox, sums up these buzzwords hilariously well as "the battle among giant companies that want your eyeballs and credit cards for their subscription services".
Battle"… "Apocolypse"… Is it really that competitive?
In a word, yes.
According to Statista and eMarketer research, only 59-62% of US adults currently subscribe to a streaming service. Granted that this percentage is on the rise, the quantity of streaming services that households subscribe to is not. (An average of 1.7 streaming services/household in 2015, and 2.8 in 2018.) Meaning – that this market tends to spend their time and money with only their most favorite service providers.
And spend time and money they do!
An estimated 33% of US adults access digital movies and TV shows daily, and 34% access them weekly. Unsurprisingly, the heaviest daily users coming from the 18-35 year old brackets. And together, the top 14 US streaming service providers totaled an annual subscription revenue of 19,904.7 million dollars last year (2018).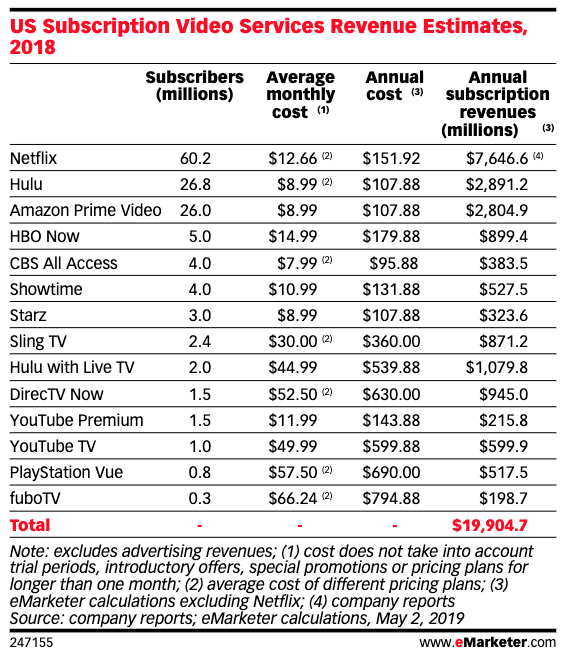 The battle heats up between OG streaming services and new ones…
OG streaming service Netflix has experienced – and will continue to experience – some of its most popular content getting pulled off of the platform as corporations create their own streaming services. This to say, it will become increasingly important for the platform to create its own original content as contracts with the likes of Disney, NBC Universal, and WarnerMedia come to an end.
What does this mean for entertainment industry professionals, and SEOs specifically?
The competition, and potential reward for streaming service providers is high – and the landscape of at-home entertainment is definitely changing. Players are going to have to make sure that they are:
Priced competitively.
Investing in the right data analytics tools to track video starts, time within the app, top performing content and more.
Creating a strong user experience (UX) within the app, and of course, have a strong game in search.
Beyond digital marketing, I'm curious… who will win your subscription in 2020? Do you anticipate subscribing to more or less streaming services in the next year? Let me know in the comments.