Have a website? If you haven't tried GetSiteControl for getting visitor feedback yet, you're missing out. In the coming section, I'll review what GetSiteControl is, why you should use it, and how to set it up on your WordPress site.
What is GetSiteControl?
GetSiteControl is a third-party website/tool that you can add to your website to gather customer/subscriber leads and user feedback via a pop-up box that appears on-page. You can use it with any website CMS including WordPress (which is what I have.)
Here's a quick example of a sample of such a widget on my site: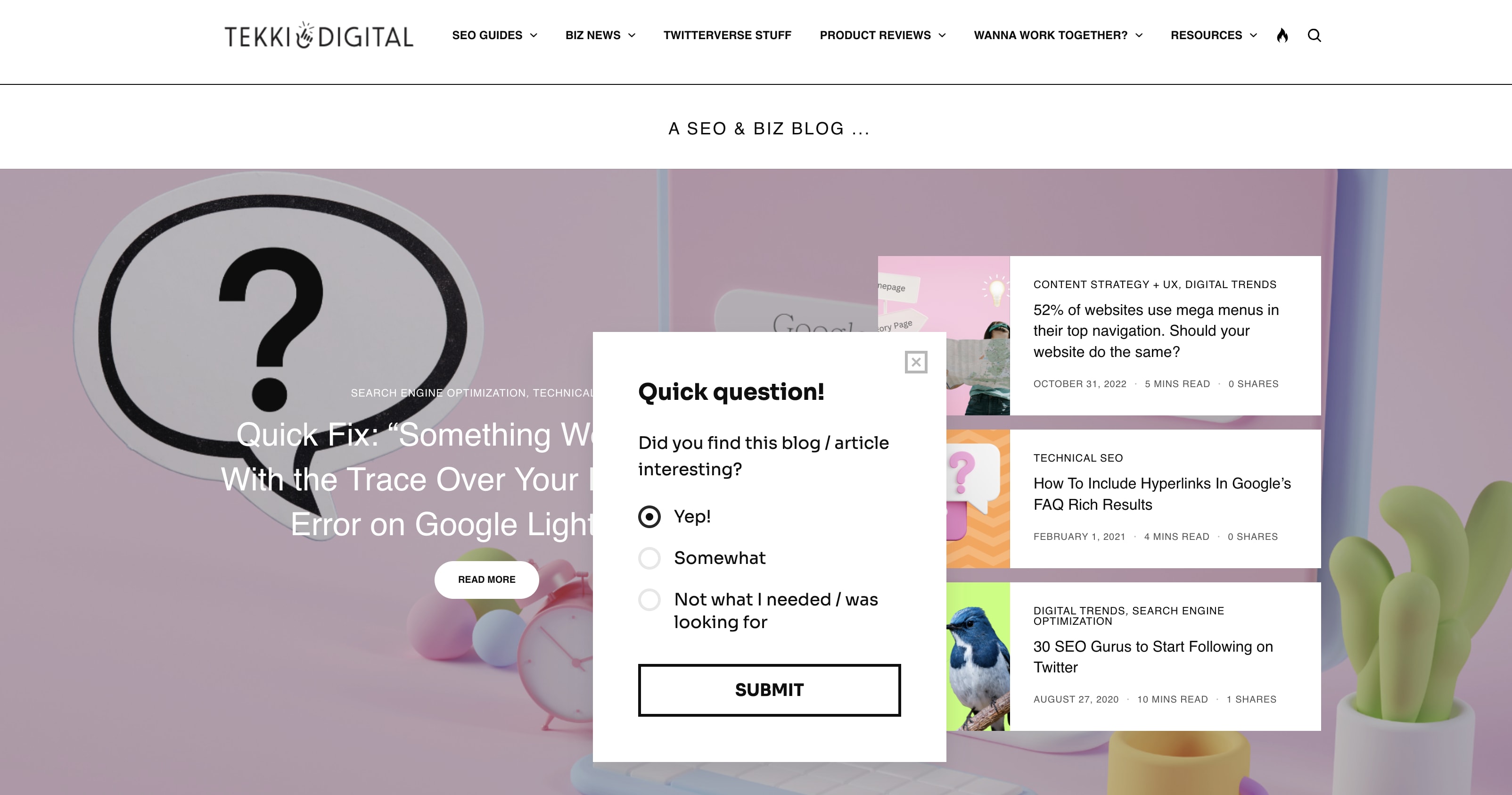 Why GetSiteControl over other, similar products?
Unlike other pop-up tools, GetSiteControl offers much more robust customization features for the way that the pop-up itself looks – which you can design yourself or choose from pre-set designs. You can pay for your subscription month to month, or a year in full for a 25% discount.
Another great quality of GetSiteControl is that it offers robust targeting customizations. It's simple and fast to filter exactly where and when the pop-up appears. Plus, you can perform an A/B test to see which designs and messaging result in the highest engagement rates.
Finally, the big thing that I think makes GetSiteControl stand out from the competition is its easy set up (simply install a pixel in the head tag of your site) and integration with Google Analytics 4 and email. GetSiteControl tracks Google Analytics 4 events right out of the box and also sends emails to the Admin whenever a new visitor has engaged with the pop-up with a customizable subject line.
Should you use GetSiteControl?
As website owners, it's your job to provide the best UX possible to your visitors. And yes, website traffic analytics reports can tell you a lot – like your most visited pages, average time on site, and location that users are coming from. However, it doesn't actually tell you anything about users' perceived quality of the content / UX.
Whether you want visitor feedback on how they found your company, or what they think of your website design, or what their intent is for visiting… (etc!) GetSiteControl fills this void in the most simple, fast, and thoughtful way. So if you're interested in collecting user feedback, I'd yes, I'd say yes, you should give it a try!
How to setup GetSiteControl on your WordPress site
First things first is to create an account and connect your account. Your main dashboard will look like this: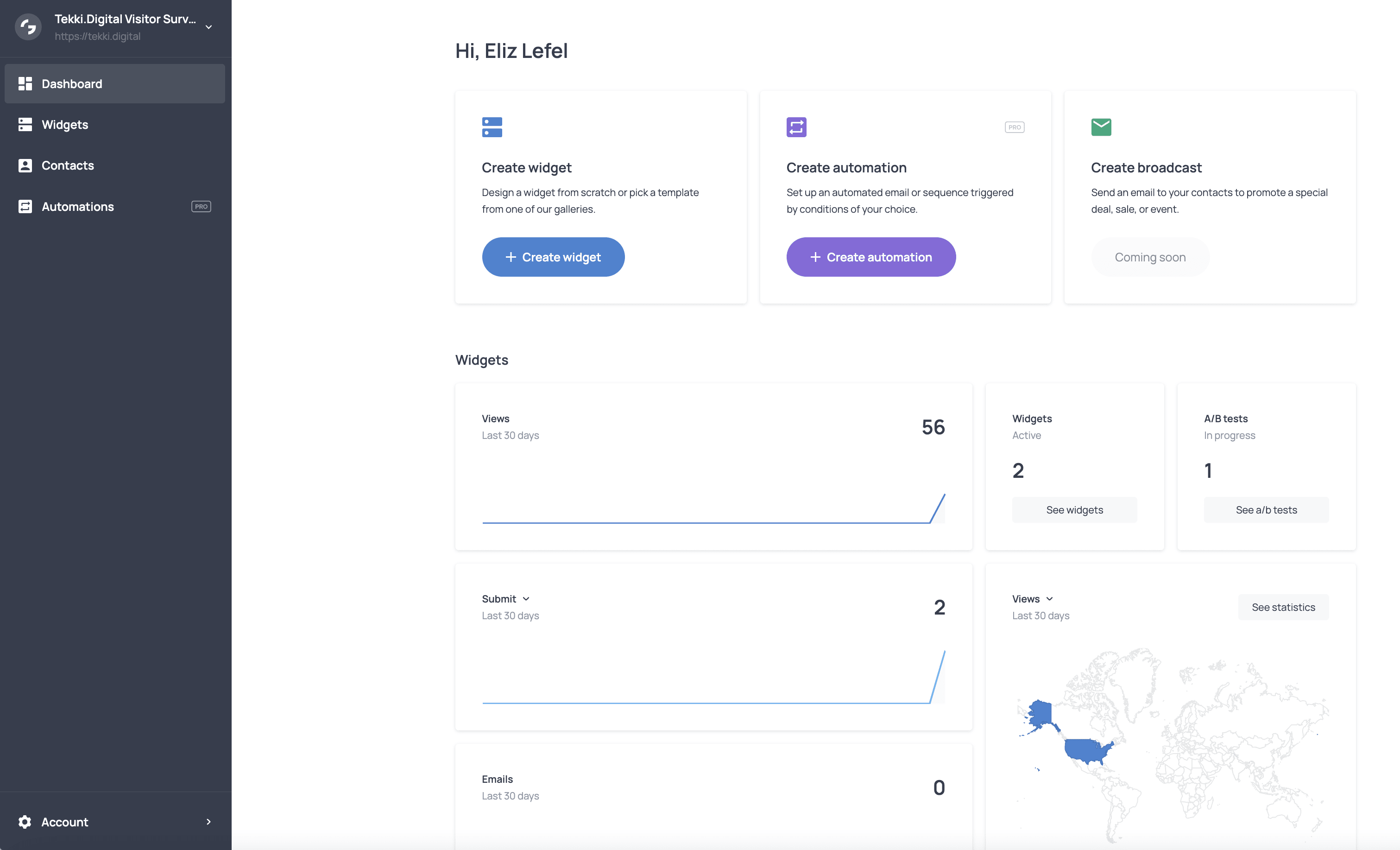 Add the GetSiteControl Pixel code to the source code of your website so that way all of your future widgets will be able to appear on site. Click the top left button and "add a site". Copy the code the website provides to your clipboard and then insert it into the head tag of your website. You can then click GetSiteControl's button "check code" and it will confirm with you once it has been installed correctly.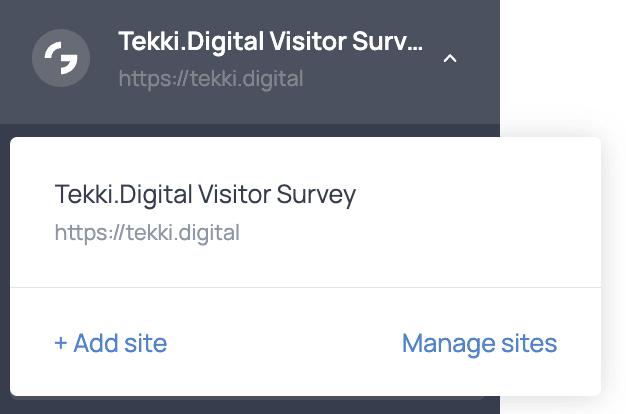 If you're not sure how to do this on WordPress, you can do it simply by going to Appearance > Theme File Editor > Theme Header (Header.php). And then, adding to the end of he <head> tag. Use a note to make sure that the purpose of the pixel tag is known to everyone with admin access to your site. I.e., <!– Note Name –>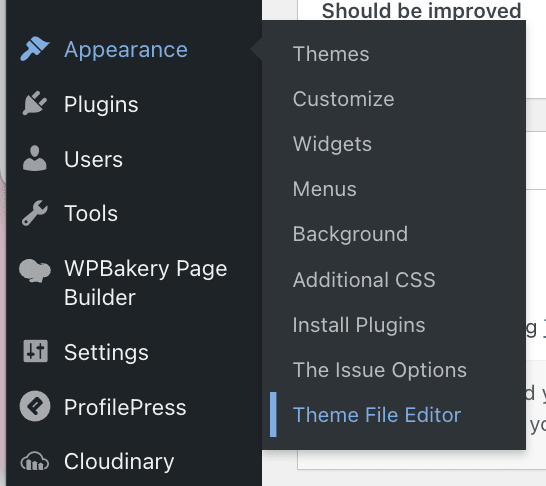 Good work! Now you're ready to create your first widget! Click "create widget" in the top left (the blue button) and a popup will appear that looks like this: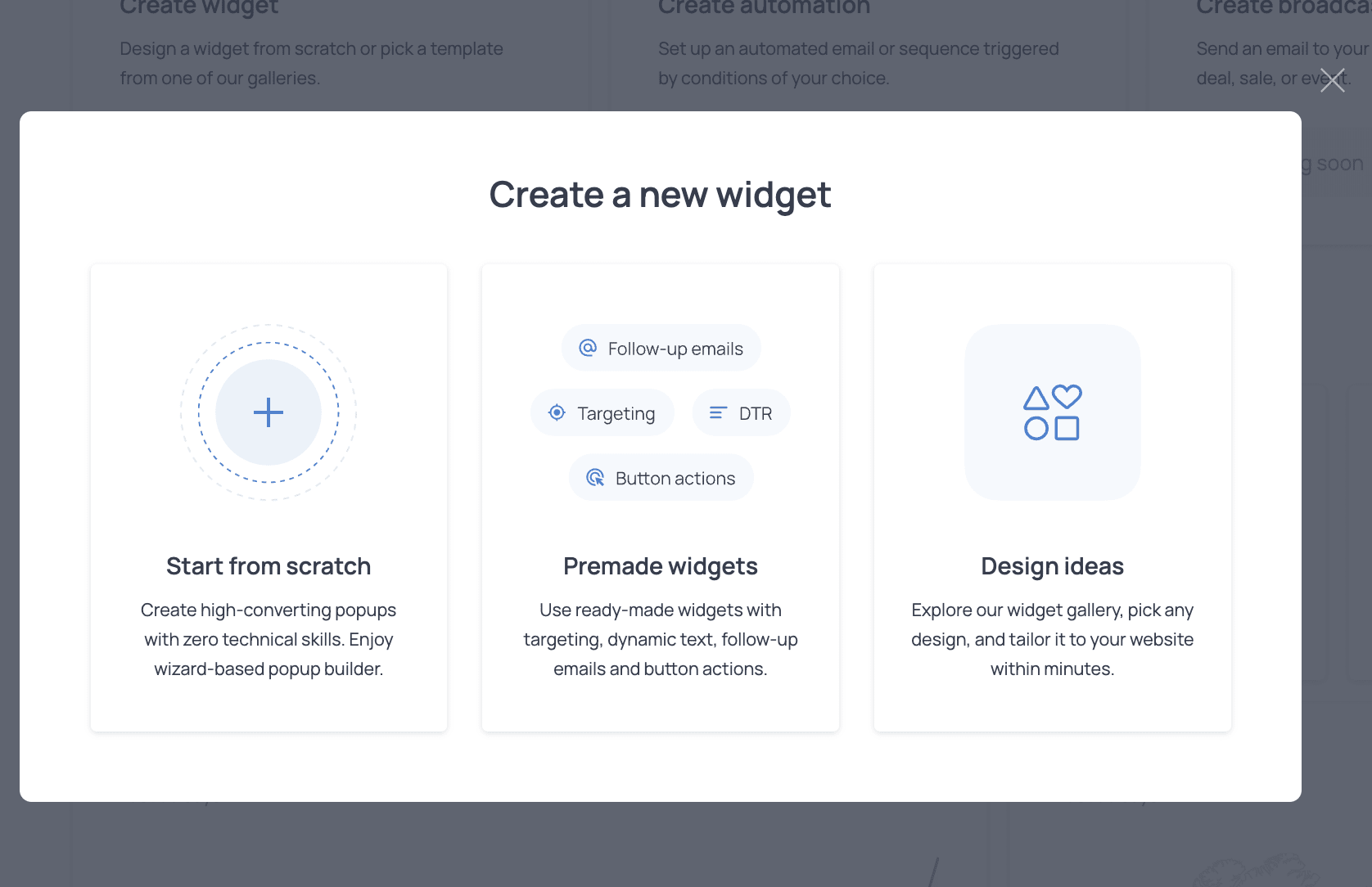 As the image shows, you can choose to make a widget (i.e., pop-up) "from scratch", pre-made ones, or browse design ideas. The difference between "pre-made" and "design ideas" really boils down to your comfort level in creating your own custom targeting rules… AKA: who you want to target. Let's go with "design ideas" for now.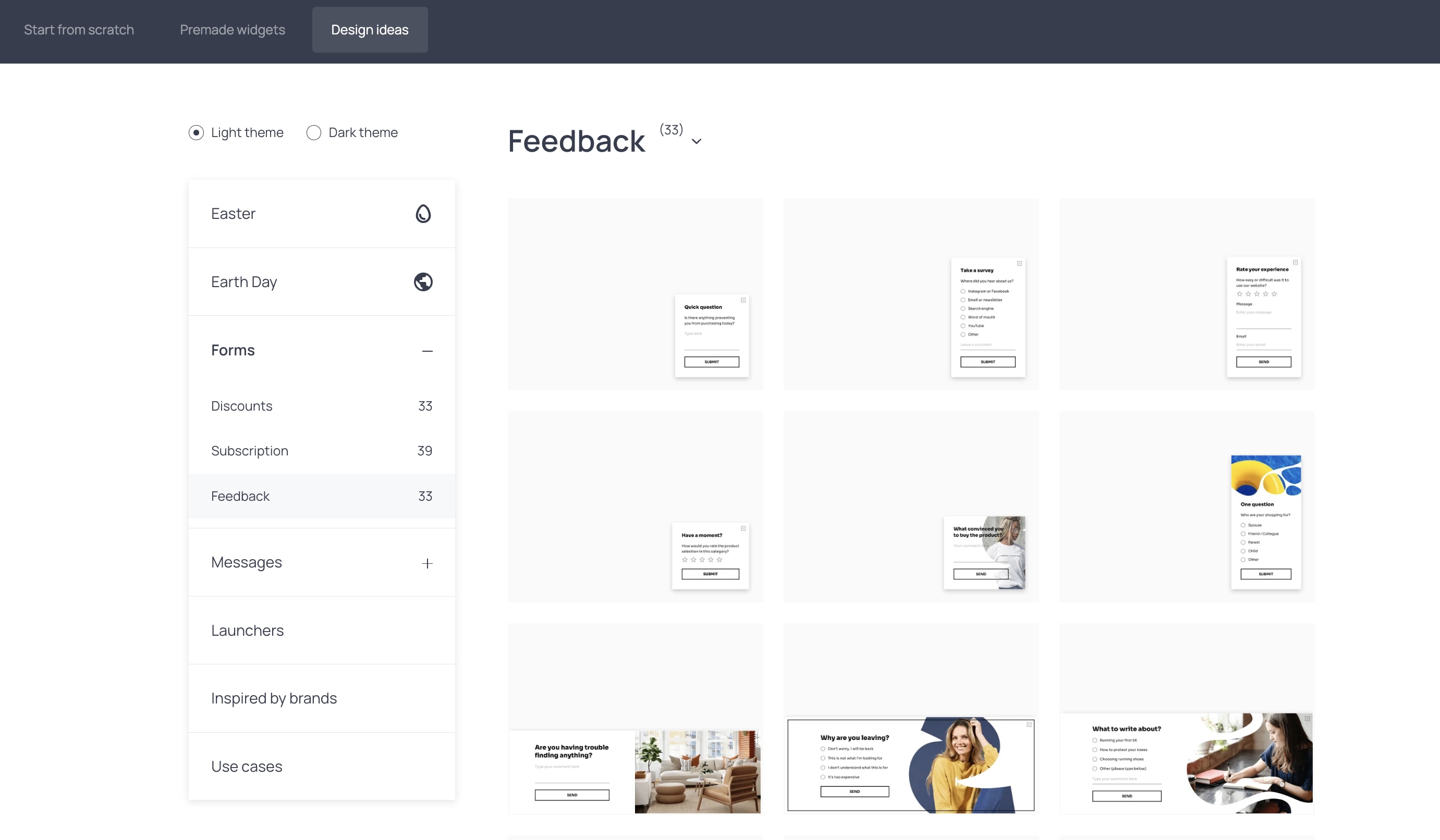 Next, you'll see a list of pre-made designs that you can use as template for your own form. Click on your template preference and then "take this template."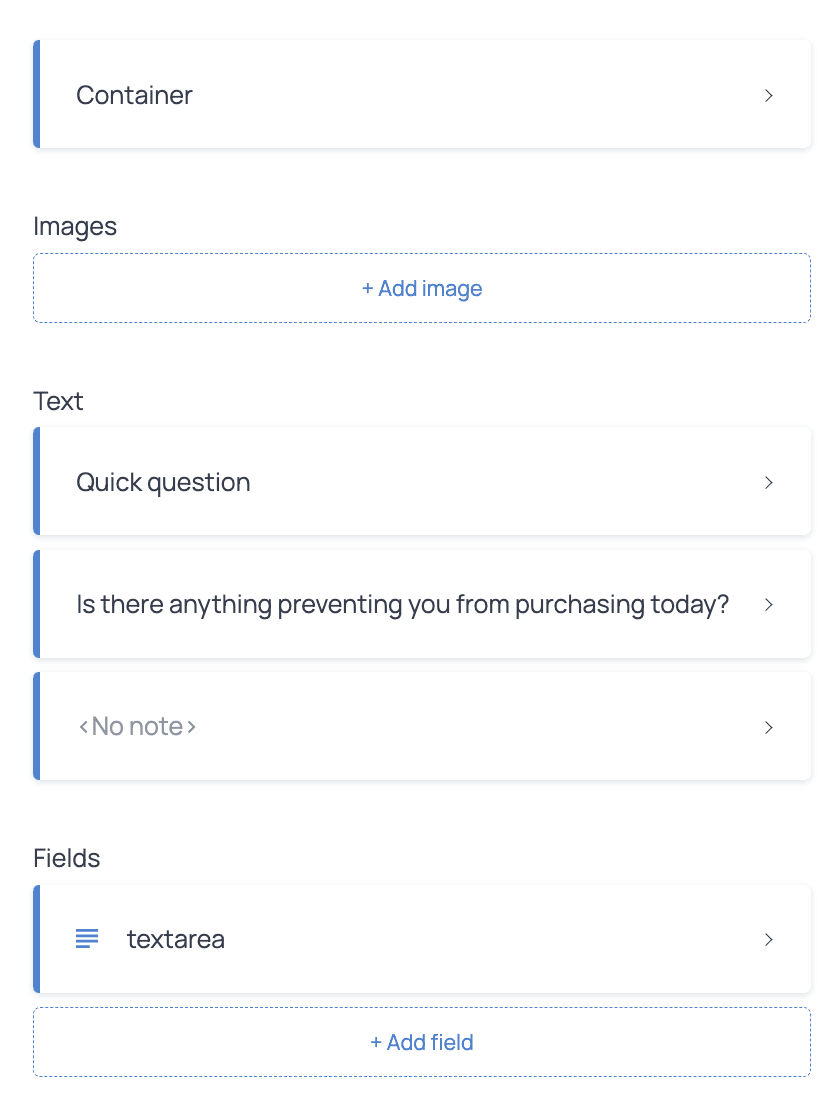 Make you design and text changes to the template you picked and then click "next."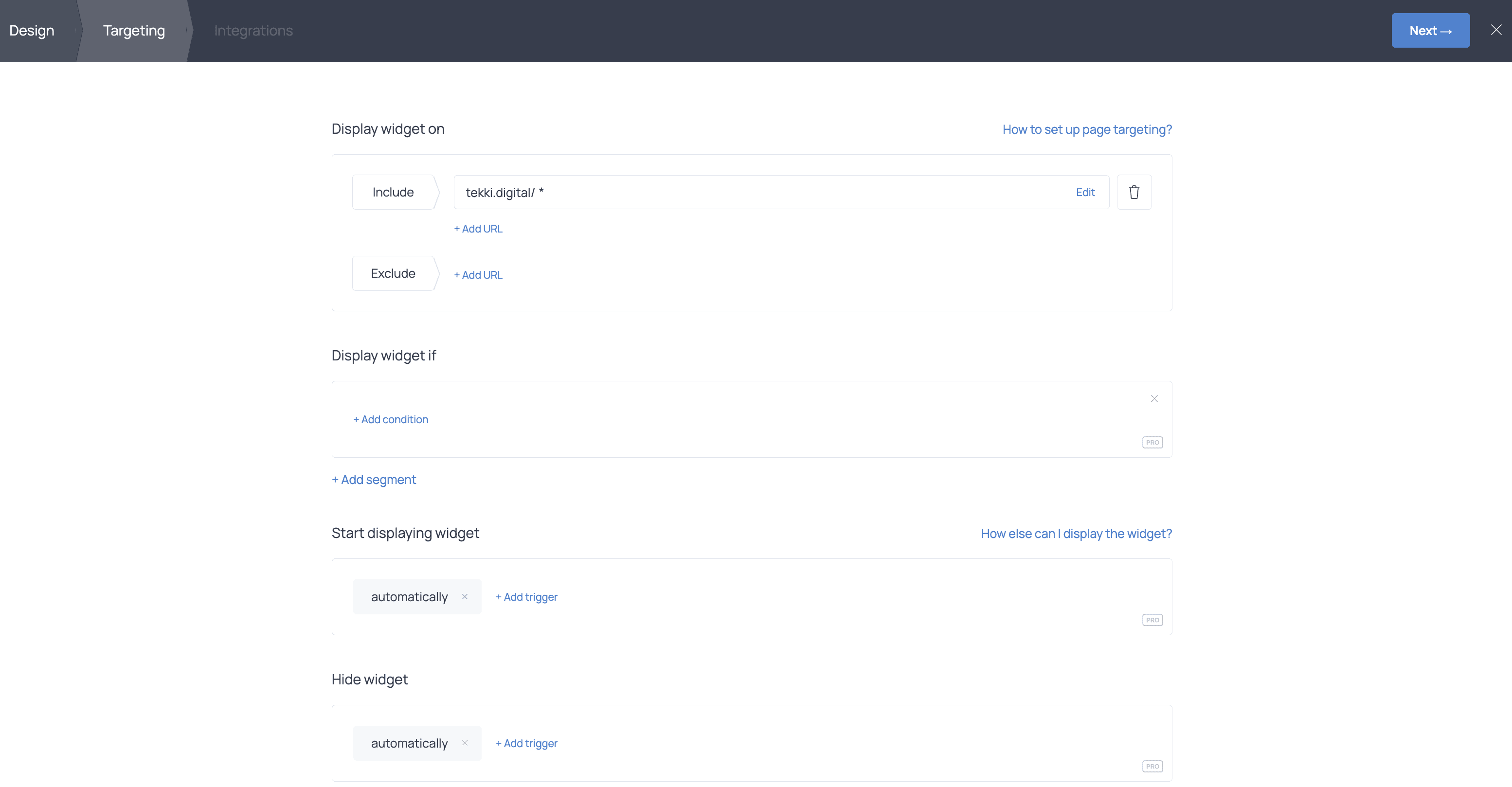 Fill out your page filtering and audience targeting options and then click "next."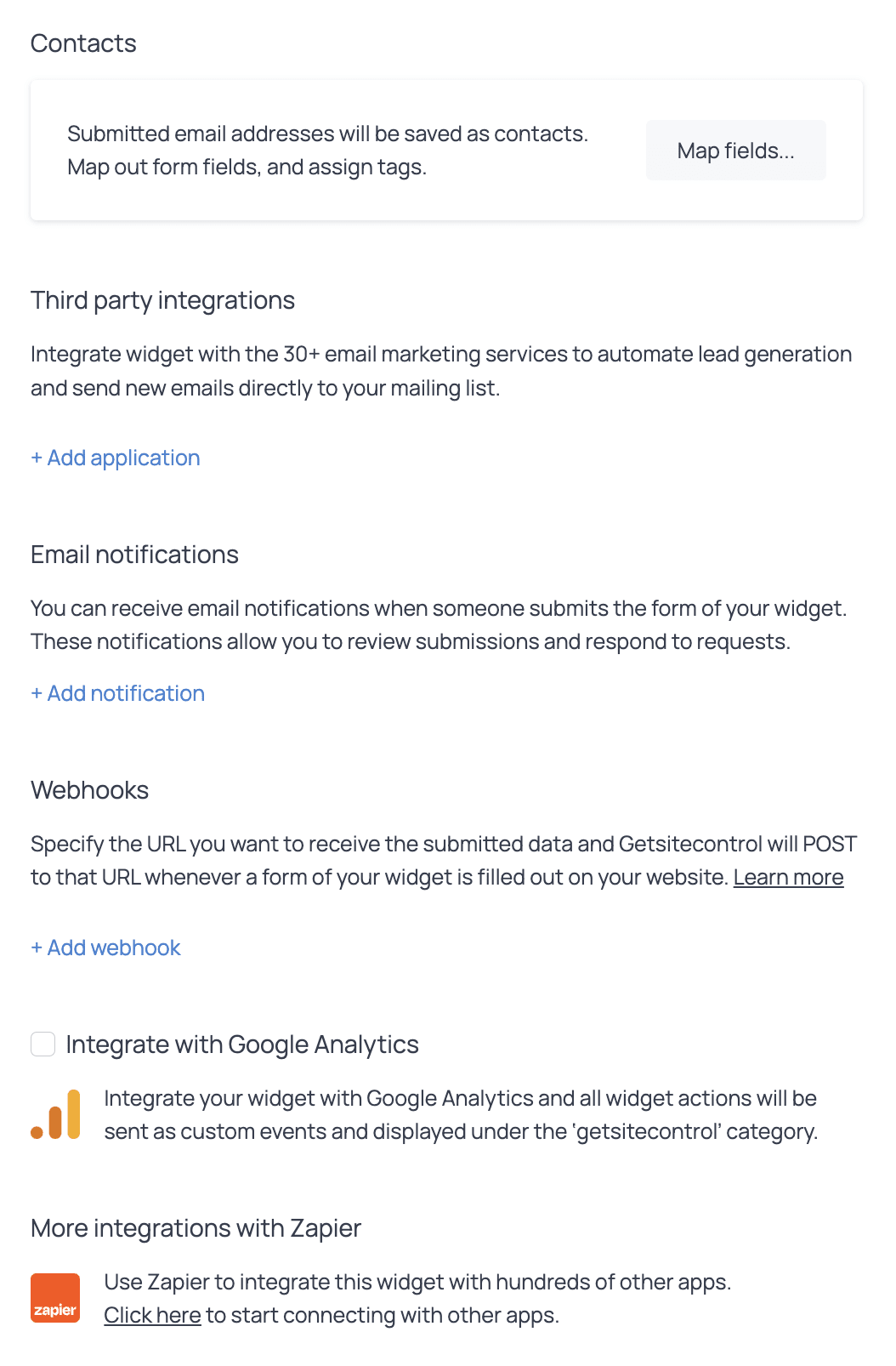 Set up your email notifications and other third-party integration tracking like Google Analytics and hit "save and close". This will take you back to the homepage where you will see a notification for something like: "This widget is not yet activated. Activate now, or leave deactivated." If you're ready to publish this widget to your website, you can go ahead and activate it.

That's it! the feedback form we just created should start loading on your website. You should be able to start tracking your form's progress over time from the dashboard, under "statistics."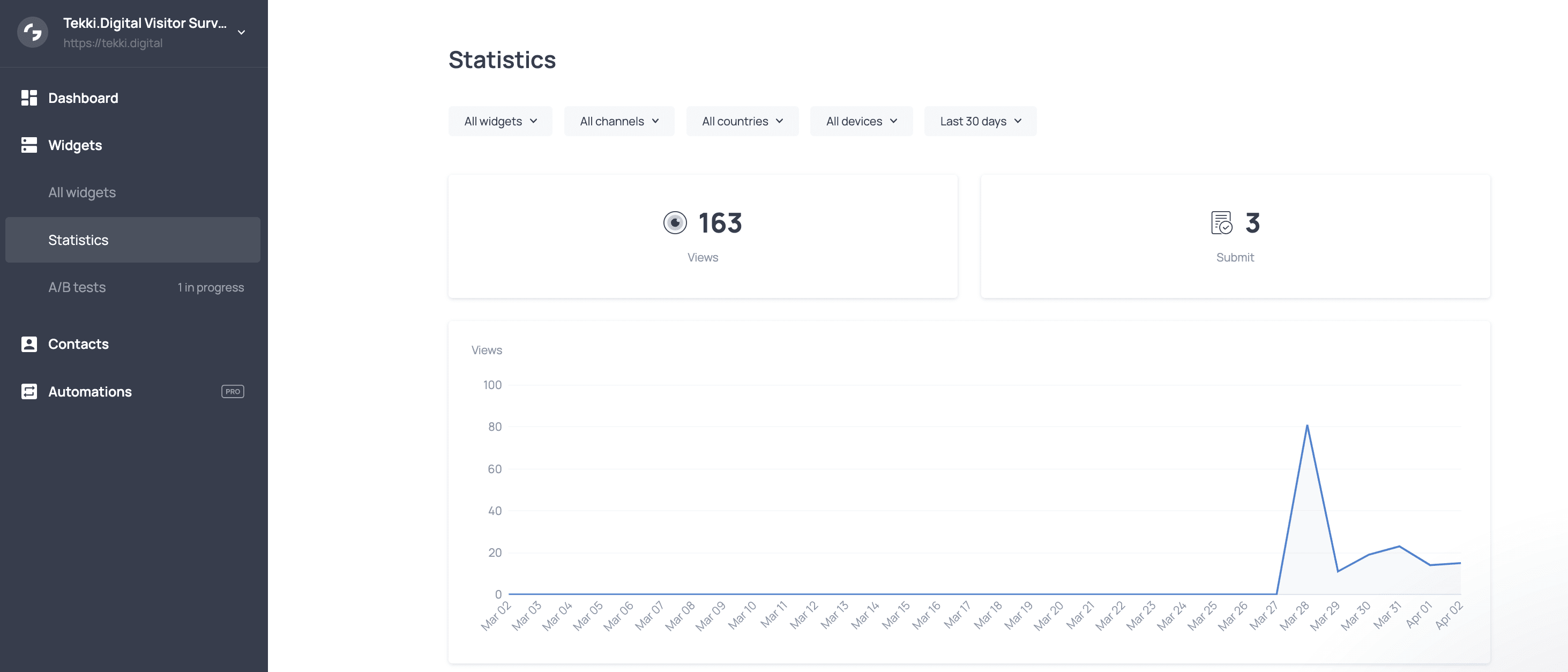 Wrapping Up
If you're ready to get GetSiteControl, you can do at GetSiteControl.com.