This Post Covers:
Introduction to Google News and the Benefits of Being Featured in this Area
Google News is Google's news aggregator service that showcases the latest articles from across the web — including thousands of international news publishers and magazines. It available as an app on Android, iOS, and the web.
What's so great about Google News?
In August 2020, Statista found that Google News is the second most popular news website in the U.S., with 150M monthly visitors (Yahoo is first, with 175M monthly visitors) — making it all the more valuable to appear within its website and app if you want a piece of the action.
Emarketer conducted a similar study in July of 2020, that yielded complimentary results. It projected 114.1M smartphone users use at least one news app on their phone at least once a month — up 15% from 2019.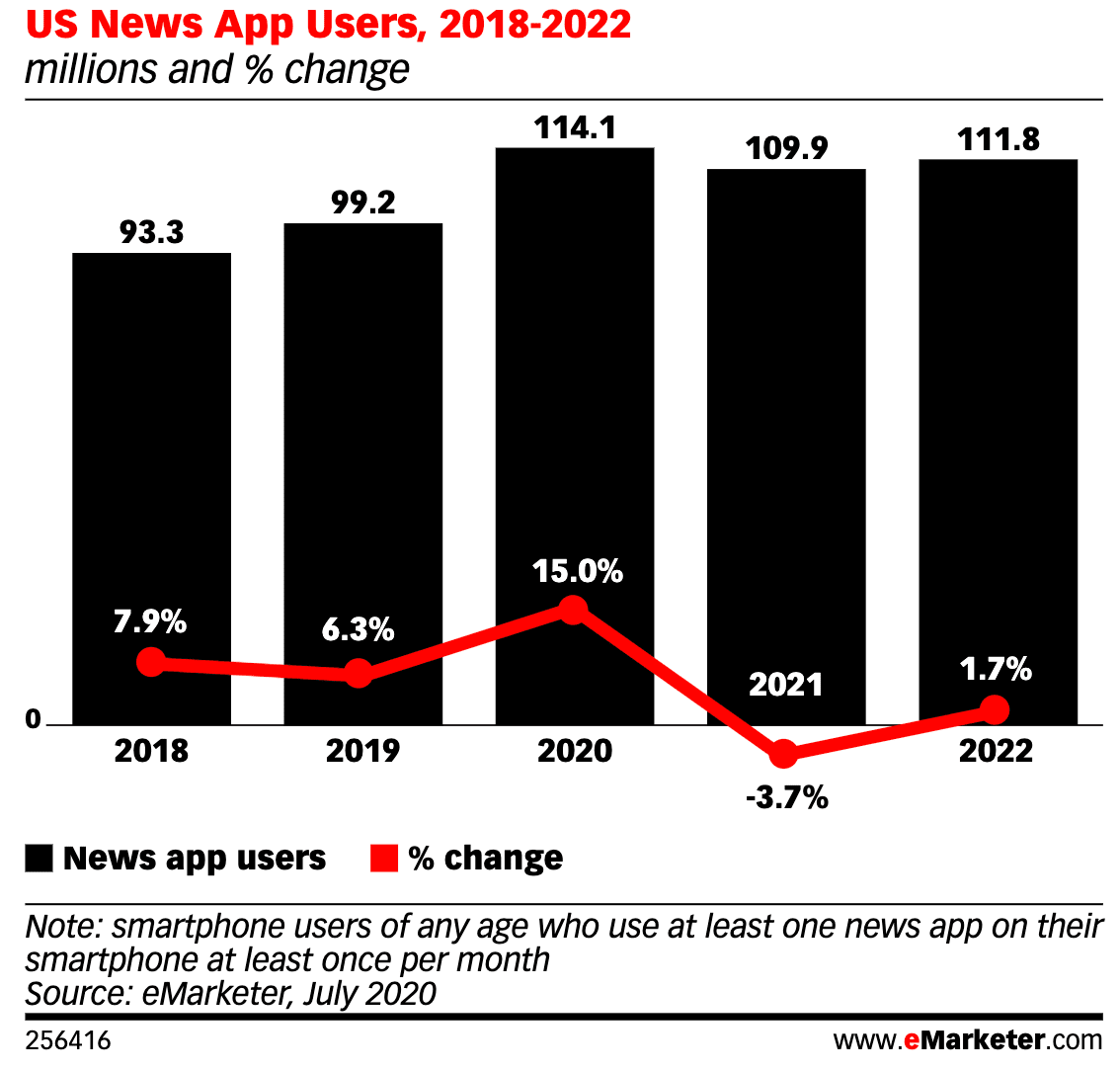 Between these two studies, we can see that people in the US are increasingly turning to Google News — and apps on the whole — to stay updated on the news.
But, how does a publisher become eligible to appear on the Google News site / app in the first place? Is it really mandatory to submit your site to Google's Publisher Center as some Reddit feeds rumble about? We'll cover that in the next section.
Is it Mandatory to Submit your Site to Google's Publisher Center in Order to Appear in Google News?
It is not mandatory to submit your publication to Google's Publisher Center to be featured in Google News rankings. However, it really helps smaller websites increase their likelihood of getting featured/get on "Google News' radar" so to speak.
It also offers some special benefits, such as:
Content and branding control: Design, brand, and customize your publication's sections and content in Google News.
Monetization opportunity: Run ads inside your content area in the app. Google News supports ad serving via Google Ad Manager, including premium solution ads.
Placement eligibility: Publications with business terms are eligible to be in the Newsstand section of the app (in applicable countries/regions). Publications are independently selected for Newsstand by its merchandising team based on promotional timing, quality of user experience, and relevance to promotional theme.
So, what are the bottom-line qualifications for appearing in Google news?
Your website must be a dedicated news publication (there is literally a team of Google employees that will manually review your website to check on this. Having a dedicated news/blog section of your site likely will not make the cut.)
Articles and sections need static urls, and written in plain HTML (Google News doesn't do well with dynamic urls or JS content).
Having a News-Specific XML Sitemap (technically optional, but highly recommended)
Newsarticle schema markup (again, technically optional, but highly recommended)
Other helpful items include having multiple authors featured on your website, daily updates, featuring unique content (not syndicated), and focusing on a specialized niche. To learn more about bottom-line qualifications, I highly recommend checking out Barry Adams' MOZ Whiteboard Friday video here.
In the following section, we will review how to submit your publication to Google News, step-by-step!
How Do I Submit My Site to Google's Publisher Center?
If you're interested in submitting your website to Google's Publisher Center, try this simple, 7-step tutorial:
Step 1: From the Publisher Center home screen, click the button "+ Add publication".
If you have multiple news publications, this will be the blue button at the top. (For future notice, this is also where as you can go to make changes to your Google News page after it has been accepted.)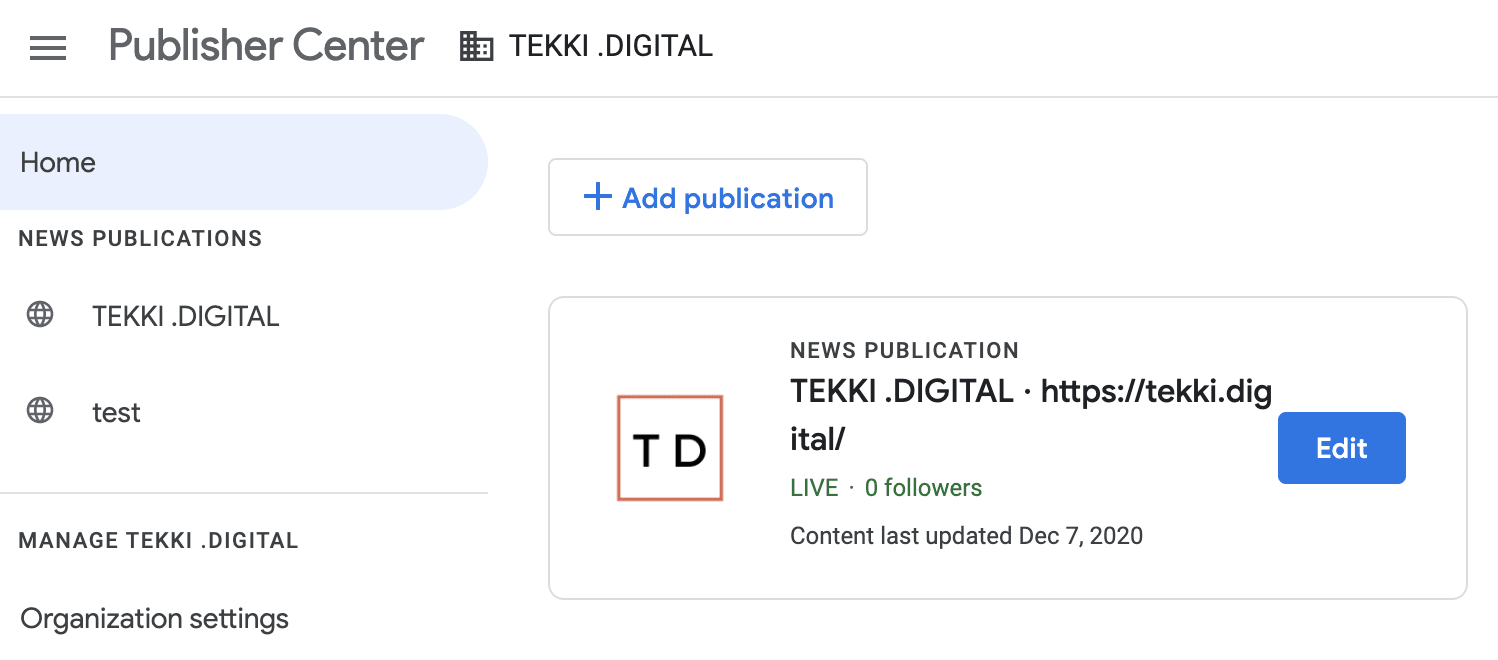 A button will then pop up that asks you to name your publication. It doesn't have to be your full URL, just the news publication/blog's name (Google app users will be able to search for your publication with this name).
Please note that Google News has certain naming guidelines, and doesn't allow publication names to include extraneous articles (such as "the") and descriptive clauses. (Basically, if you want to be accepted into Google News, don't try any funny business like keyword stuffing, etc. Just type… your publication's name.)
Step 2: Fill out your publication's 'General' information
This includes information such as your news publication's description, industry category, primary language, homepage URL, Google Analytics tracking pixels, etc.
A quick tip for the description: Just like you would do in a title tag or description, try to front-load relevant, high search volume keywords that describe your publication in this area. Google News users will be able to use the text you provide in your description to search for your publication within the site/app. Oh! Also: make sure your publication description is at least 140 characters.
Stumped on picking out the right keywords? Think of popular names, places, and topics that you cover most frequently — and then use your favorite keyword research tool to optimize accordingly. My favorite paid keyword research tools are BrightEdge and SEM Rush, and my favorite free tool is UberSuggest.

When you're ready, click the blue "next" button. Please note: This can be edited at any time — so no stress if this isn't a masterpiece on the first go.
Step 3: Fill out your publication's 'Content' information
This starts with "Sections" at the top. Please note that whatever sections you add here, will show up as tabs at the top of your publication inn the Google News app, or on News.Google.com. If you don't want separate sections (and prefer one main feed), just add one section in this area. Please note that there is no right or wrong way to set this up (see FOX Sports vs. Buzzfeed), but the greater the quantity of articles topics your publication covers, the more it probably makes sense to add multiple sections.


If you have a WordPress website, locating your website's feed(s) is as simple as adding "/feed" to the end of your site and/or section
For example in the search bar, type in "domain.com/feed" or "domain.com/category-name/feed". Your content will update from these feeds hourly. See my example from TEKKI.digital: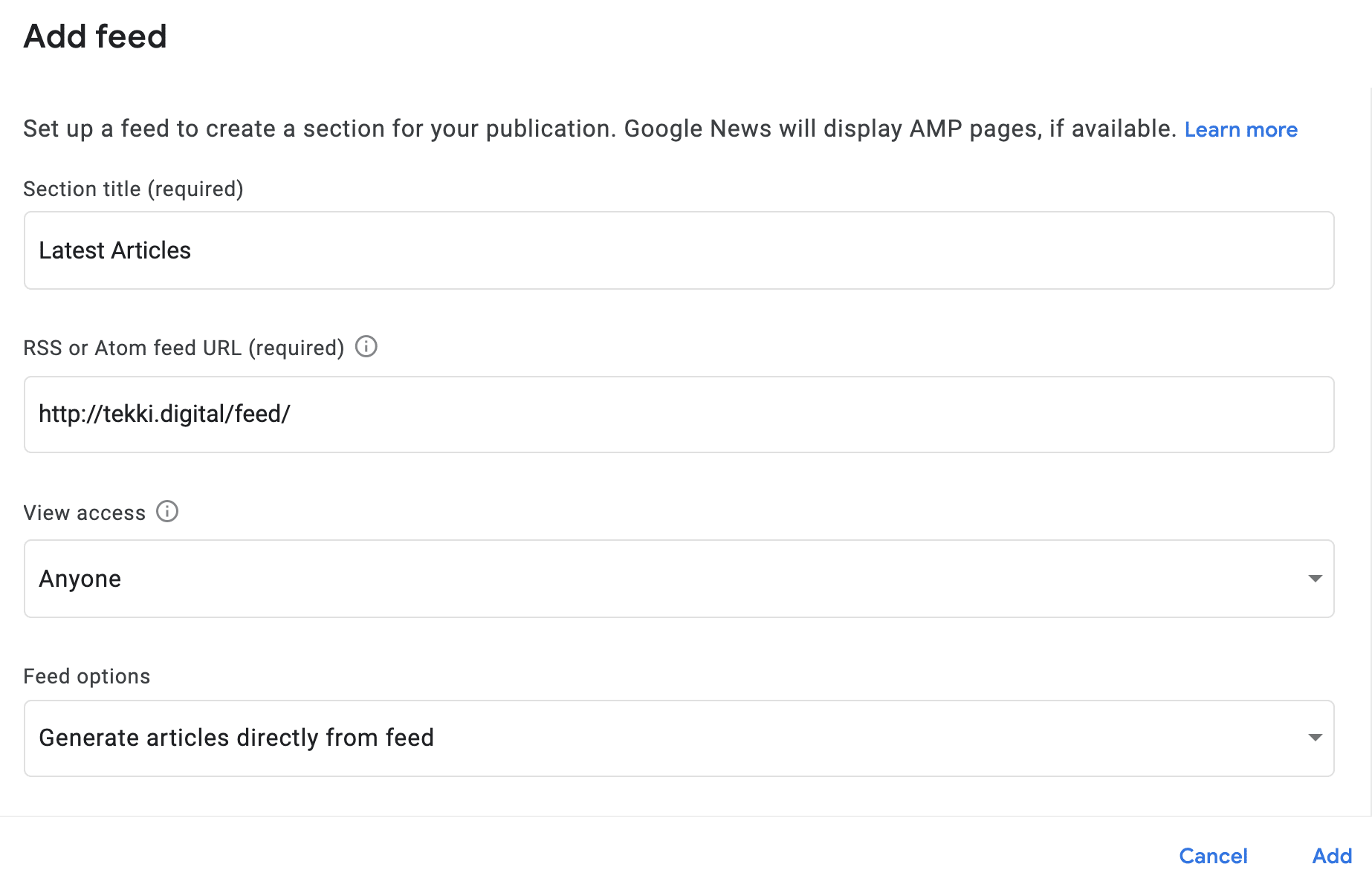 To learn more about creating Feed sections, try these resources:
Google will also ask you to fill out your preferences for Content labels.
Labels are a set of predefined terms that describe the content of different parts of your news site and serve as hints to Google News to help classify your content (Google Support Pages). In other words, this area is meant for Google (rather than users) to better understand the context of your publication — and have it appear in the most relevant type of searches. There are five types of labels Google lets you pick from:
Opinion
Satire
User-generated
Press release
Blog
You can choose to apply one label for your entire site, or create multiple labels for various areas of your site. For most sites, choosing one label will suffice. When in doubt, I recommend choosing 'blog'.
Before moving onto step 4, quickly verify your URL ownership by logging into your Google Search Console account. Then, click the blue "Next" button.
Step 4: Fill out your publication's "Images" information
This includes various sizes and light and dark options of your logo. Pay special mind to the file formats and sizes that Google recommends — this will ensure that you're images appear properly in SERP results once your publication has been accepted. When you're ready, click the blue "Next" button again.

Step 5: If you have a Google Adsense account created, connect it to Google Publisher Center in the "Ads" information section
If you have an AdSense account it should be automatically be listed in the top drop down for you to choose if you have verified ownership of your website in Step #3.

This section will also ask you if you'd like to grant Google permission to sell ads to show in your publication in the Google News app. And if so, you can increase/decrease the percentage of Google-managed ads that displayed within your content (100% would mean that Google manages 100% of the ad space featured on your site). When you're done with these settings, click the blue "Next" button.
Step 6: If you would like to test your publication in the Google News app, it can be done in the "Advanced" Section
This section is more applicable/helpful once you have already been accepted into Google News; and you can do three things:
Restrict sections of your publication to specific people that are "authorized testers" before push it live for all.

2. Edit CSS to change the way your article looks within the app.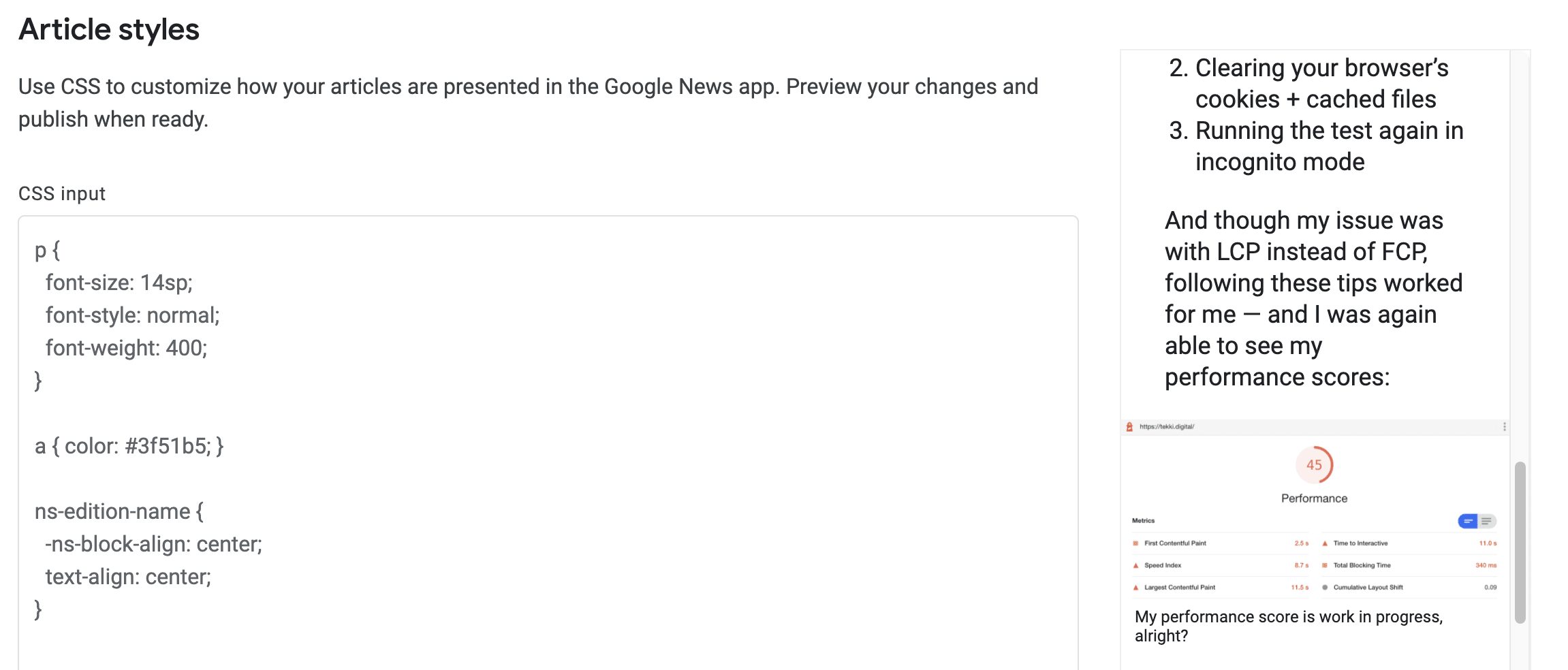 3. Change the font family of your articles if you don't want to use the default options — Roboto (Android, desktop) or San Francisco (iOS).

But for now, you can click the blue "Next" button.
Step 7: The 'Review and Publish' section
The screenshot below shows the areas that Google has flagged of being in-need of review. The most common item that gets "stuck" in the review section is an [empty section] in the "Content" tab (at the bottom of this screen shot).
To troubleshoot this, make sure that you are using the formula "domain.com/feed" (for WordPress users like me). If it is still showing up as empty, wait 30 minutes while the data populates — it should be resolved.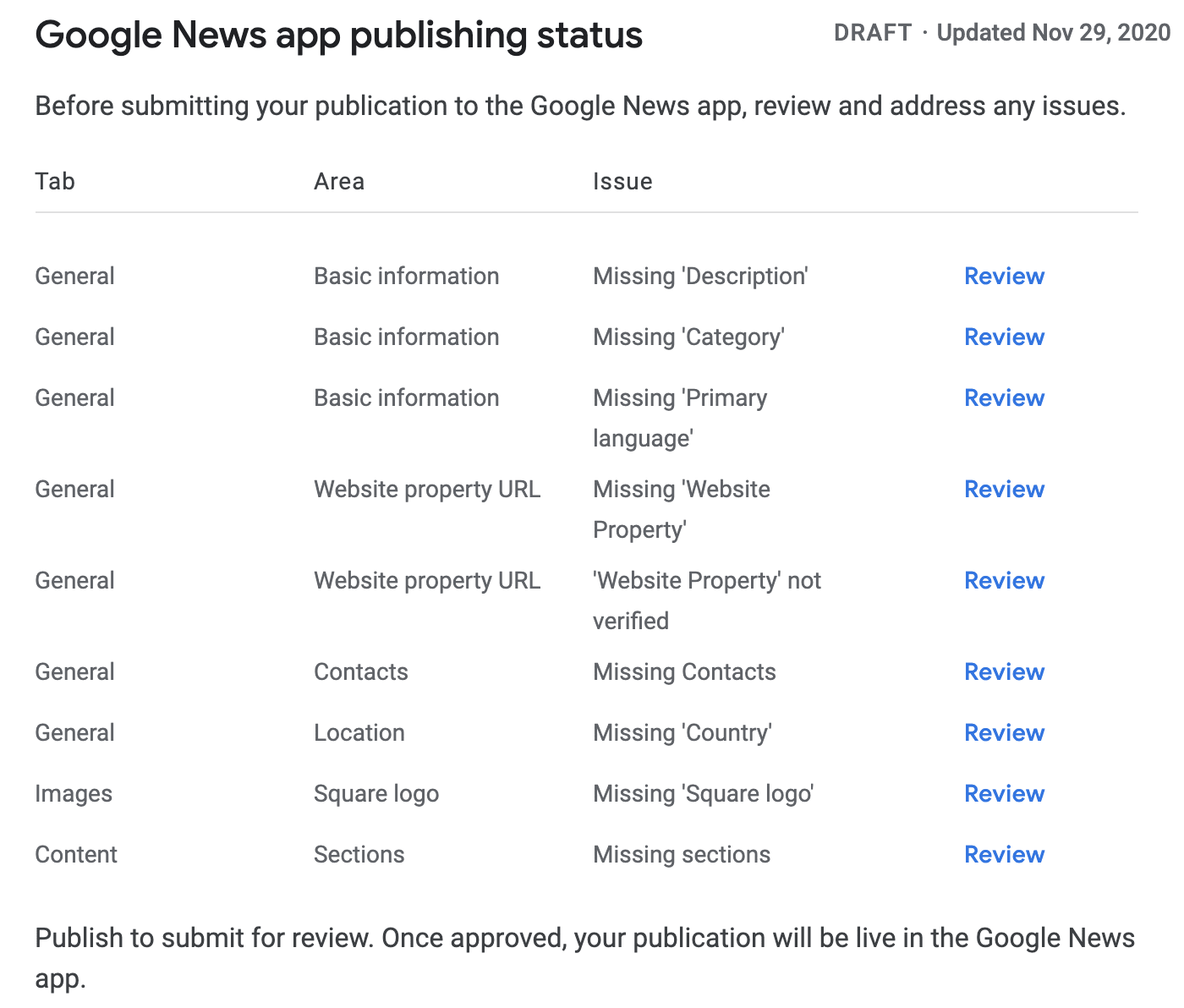 Google alerts you that once you have submitted your publication for review, it can take as much as 4 weeks for them to get back to you regarding your acceptance or feedback on how to improve in order to become accepted. For me, it took about two.
Once you have been accepted, your blog will be able to be searched for within the Google News app!
Questions? Drop me one below in the comments.