https://twitter.com/badams/status/1522181532181532678
Week #2 of SEO news across the Twitterverse… are ya'll ready? We're covering Amber Turd's IMBD profile, the newest (maybe) Google algorithm update, evil Javascript, and the 4% of SEOs that don't work in SEO.
Confused? Great. Keep reading.
1. Hollywood's Amber Turd
Apparently hackers changed Amber Heard's name on her IMBD profile to Amber Turd. It showed up this way on Google Search Results and everything. TMZ's rockstar investigative journalists confirmed that it appeared this way both on desktop and mobile. Lol.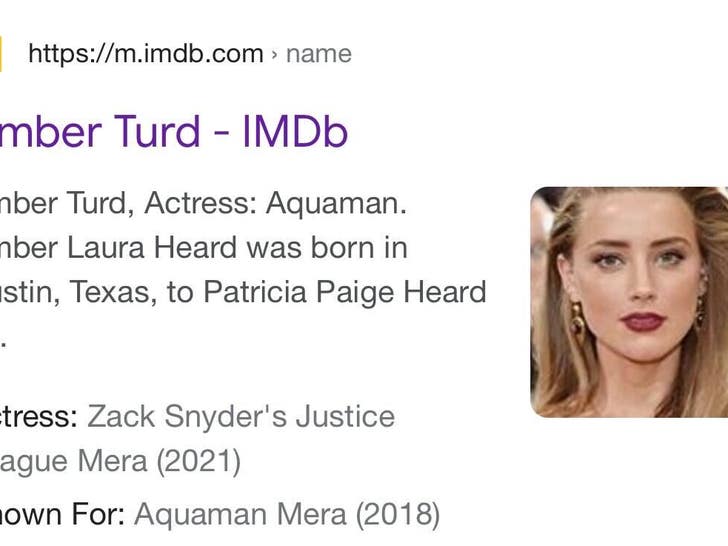 2. The (maybe) Mothers Day Google Algo Update
As flagged by one of my favorite SEOs, Barry Schwartz. AKA: @Rustybrick. You can read more about it here.
3. 33% of SEOs don't have university degrees
@Rustybrick also shared a Twitter poll done by @BrodieSEO asking SEO peeps whether or not they had University degrees. Over 1,000 people responded to the poll — including a random 4% of SEOs … that apparently, don't work in SEO. Alas…
At any rate, it was interesting to also read some of the replies, particularly @PeterMindenhall who added a second layer to the question: to those who did attend university, how relevant is said degree to the SEO industry? Anyways, check it if you want.
4. Google Search Console shows a report data gap in the crawl stats report
And more Barry news! He tweeted a screenshot from GSC showing a gap in crawl stats the first new day(s?) of May. Based on a blog post that I found in two seconds from Search Engine Journal, this isn't the first time. Or the second time. But not to worry SEOs, it's just a little bug (not related to anything else).
5. Change your Javascript links to proper <a> tags
Moving onto another one of my favorite SEO-Barrys, @Badams reminds us all what we all already know to be true in our hearts. JS is evil.
<a> tag and prosper, SEOs.
*Spends twenty minutes trying to find other SEOs named Barry on Twitter to go with this week's accidental theme and fails*
6. Google is spring cleaning its image and video XML sitemap attributes
Google says: "there's no immediate action required; you can leave these tags and attributes in place without drawbacks. In the future, Search Console may show warnings." So yeah, idk. Now you know. Read more on Google's Developer blog here.
7. Google bots aren't into emojis in title tags
A recent case study from Searchpilot.com found that emoji use in its title tags make a major impact SEO. But unfortunately, not in a good way. :'(
8. GA4 is way more customizable than GA3.
Turns out, you can customize your Google Analytics reports even more than you already thought! Thanks for the tip, @Kristenseiden.
9. @Johnmu assures us all that "plagiarizing yourself" isn't a thing
I know that I was a journalism major, but come on guys lol …
10. And finally, Dwane 'The Rock' Johnson explains what he eats in a day in Wired's 'The Web's Most Searched Questions'.
Is this really "SEO News"? Surely not. But look at how cute he is! Also, a super fun series in general if you've never watched it.
(Spoiler: It's a hot dog swallowed whole.)
See ya next week!
– Liz