NFL.com Fumbles its Website Revamp
NFL.com silently rolled out a new website revamp two nights ago, May 13. Equipped with a sleek new API, CMS, video CMS, and a re-skin, these major upgrades should have been cause for celebration amongst NFL sports fans.
Instead, the site's new features unfortunately came at a steep cost to its organic search rankings. As of May 14 at 7pm (~24 hours after the initial launch) I discovered that the site was still in the midst of what SEOs refer to as a "botched website migration". And Twitter isn't happy about it.
The good news is that if NFL.com acts fast, it can recover from this SEO fumble and save its VIP pages. Lets review what happened:
Key Areas of Weakness in NFL.com's Migration
Key areas of weakness I was able to identify in a 15 minute, mini SEO audit included:
1) URL changes to all stat pages, without 301 redirects pointing to the new URL
2) URL changes to all player category pages (i.e., team name or position), without 301 redirects pointing to the new URL
3) Botched redirects to unique player pages themselves
While its not fair to critique NFL.com's choice to change its URL structures without any background information – it IS best practice to not change URLs unless necessary. And from what I could see, there was no real need to do this.
If URL changes were deemed necessary, URL mapping / 301 redirects is a basic element of SEO compliance.
Because neither of these items were done, the end result was hundreds of 404 page errors in Google search results. Also known as an SEO's worst nightmare. More details below…
Stats Pages 404s:
Google the phrase "NFL.com stats", and you"ll find a list of helpful pages from the site. Except, they all 404.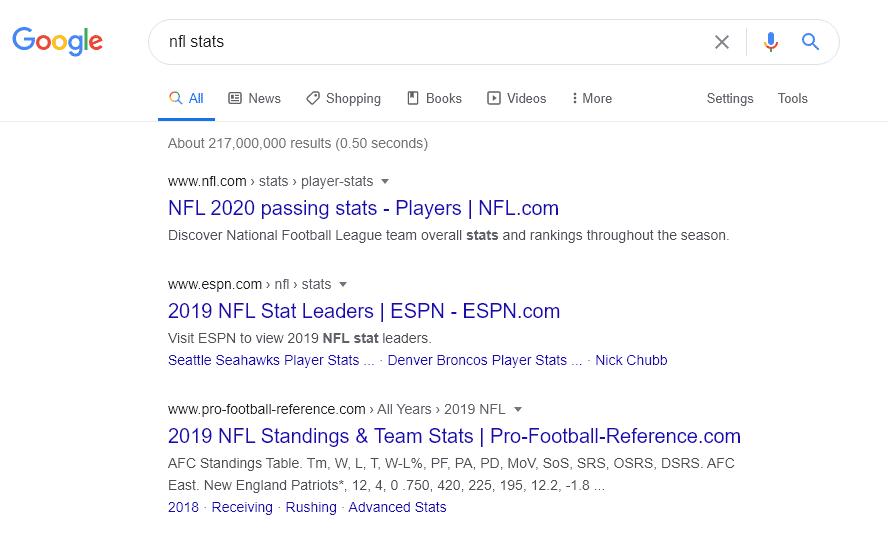 Doing some detective work, I discovered that the reason why this is happening is because NFL.com's SEO vendor failed to implement 301 redirects on its stats pages when they changed over the URLs.
Player Category Pages 404s:
The same thing happened with NFL.com player category pages. Try Googling the phrase "NFL players" into Google, and you'll find helpful deep links to pages like player search, search by position, and NFL QBs. Except now, they too serve 404 errors.
Player Name URL Redirect Mapping:
Not only were the "player category" pages 404ing, but there were poorly executed URL redirect mapping for the "player name" pages.
Google "NFL.com Josh Allen" and rather than getting one page listing for the Buffalo QB and another for the Jacksonville Jaguars LB (with the same name), they both both take you to the Jaguars player's page.
An Unforgiving Twitter
Perhaps most interesting about NFL.com's SEO fumble is the Twitter community's unforgiving attitude toward it. Several sports writers (such as Brad Gagnon from the Bleacher Report) have been dragging them for this mistake. And others still seem to have already cracked their API, hunting for sensitive data.
"Try clicking on an NFL.com link via Google search. LOL that site is such an embarrassment."

Brad Gagnon, National writer @BleacherReport
"You'll find some interesting endpoints–i.e. draft, which has all the picks, plus some qualitative analysis on the pick and team needs. The v1 docs might give a good idea of what's in V3: https://api.nfl.com/docs/global/endpoints/index.html."

Robby @greerreNFL
Wanna have a fun experiment?? Google "Josh Allen nfl.com and click on the one that says "QB"… or click on any of them. Be better NFL. Be better"
Implications:
It's important to understand that a botched website migration doesn't JUST mean temporarily 'ugly search results', a knock from a sports reporter, or even a random dude catching wind of NFL draft picks.
Rather, a lack of SEO conscientiousness during migrations can often mean long-standing, negative impacts on the website's organic traffic and conversions for months to come.
Take for example just ONE page that was affected by the migration, nfl.com/stats/player. The page ranks on page 1 on Google for nearly 70 keywords – including the coveted position #1 spot for the term "NFL stats". According to UberSuggest, the keyword "NFL stats" brings in an estimated 100K visits every month to the website. Now that the page is 404ing, it is missing out on 100K organic search visits to the site every month from just THAT keyword.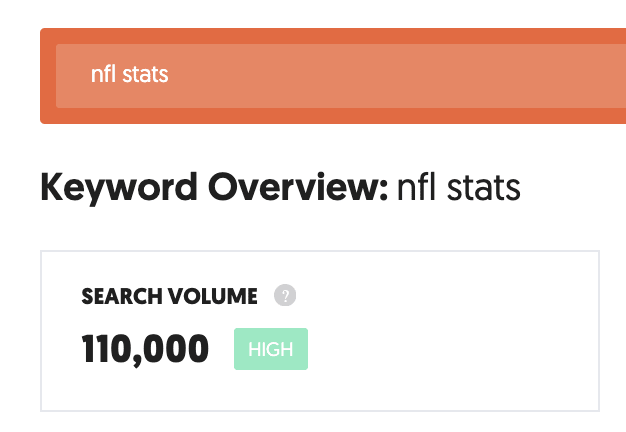 What NFL.com's Migration Vendor Could Have Done Differently & What They Can Do Now
What They Could Have Done Differently
If NFL.com's SEO vendors had simply kept the already user-friendly URLs as-is, a large percentage of this SEO fumble could have been avoided. Or alternatively, ensured that a URL redirect map was in place – and double and triple checked for accuracy before launch.
What They Can Do Now
The good news is, that if NFL.com acts fast (in the next week) the site's SEO ranking signals should remain intact and they can recapture any loss of traffic and rankings.
Gary Illyes, Google Webmaster Trends Analyst at Google, explains that "if the page was just removed from [Google's] index for a few days and then reindexed, the signals should still be lingering" and you could probably regain the rankings you had. But, "if the issue persists for weeks or months, you will pretty much start from the bottom"
"If the page was removed from [Google's] index for a new days and then is reindexed, the signals should be lingering. If the issue persists for weeks or months, you will pretty much start from the bottom."

Gary Illyes, Google Webmaster Trends Analyst at Google
Conclusion
In my opinion, NFL.com will make a (relatively speaking) quick come back from its migration fumble, due to its high domain authority and loyal audience base.
However, it does go to show that even large enterprises aren't immune to costly SEO mistakes. It's important to choose an SEO vendor/consultant that truly knows what they are doing – so your audience base can celebrate with you when you make impressive upgrades to UX (Which they definitely did!)
Elizabeth Lefelstein
SEO Lead at FOX Networks Group. Founder of TEKKI.digital blog. Contributing author at SearchEngineJournal.com.