Howdy SEOs. I wanted to share a quick fix I've found to get rid of the "?" Score in Google Lighthouse Performance metrics — specifically, the error reads: "Something went wrong with the trace over your page load. Please rerun Lighthouse (NO_LCP)."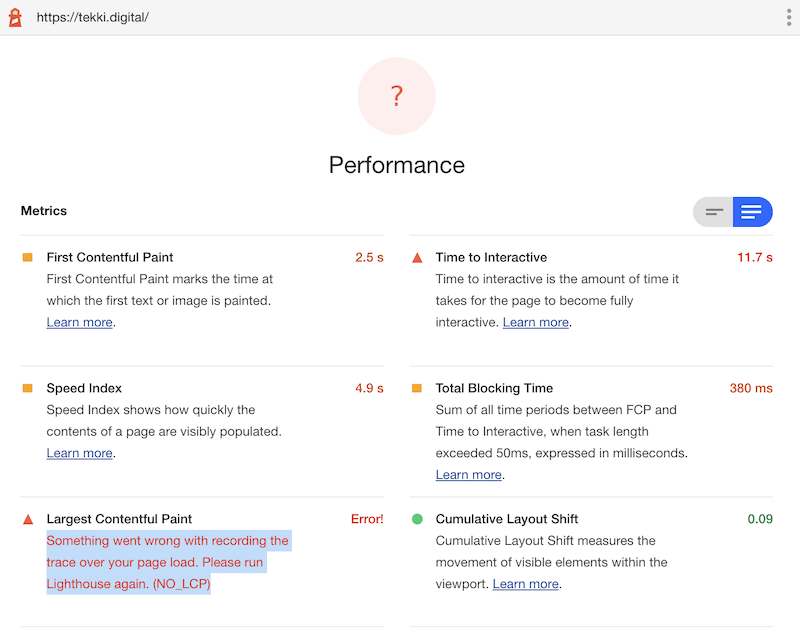 I encountered the above error when I checked my SEO blog's Lighthouse stats this morning. Note that my website was WORKING correctly, and there were no mistakes in my HTML, etc. It was inexplicably telling me I didn't have an LCP(?).
How to Fix the "?" Score + Error in Lighthouse Metrics
After some digging, I found an answer to a similar question entitled, "How to fix "Lighthouse returned an error: NO_FCP."? Top answers recommended:
Make sure no other Lighthouse tests are running/open
Clearing your browser's cookies + cached files
Rerunning the test in incognito mode
And though my issue was with LCP instead of FCP, following these tips worked for me — and I could see my performance scores again.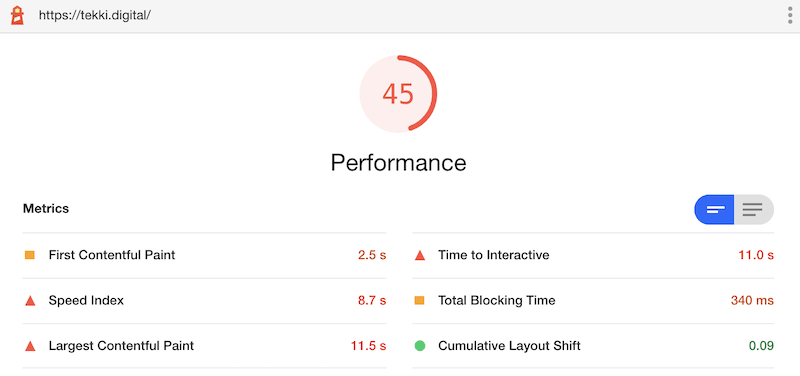 Don't stress — it's literally that simple. And it usually happens after you've made recent changes to the page.
Are you still getting a "?" Performance Score?
The other interesting point I learned in this thread was that Google Lighthouse recently instituted a "15-second timeout". Lighthouse will give you an error within the performance metrics readout if your page doesn't respond or any content within ~15 seconds. I recommend visiting this resource from web. dev (Google also recommends this resource) for general education and tips for improving page load times.
I hope this helped! Feel free to drop questions in the comments.