Quick Fix: "Something Went Wrong With the Trace Over Your Page Load" Error on Google Lighthouse
Howdy SEOs. I wanted to share a quick fix I've found to get rid of the "?" Score in Google Lighthouse Performance metrics — and more specifically, the error that reads: "Something went wrong with the trace over your page load. Please run Lighthouse again (NO_LCP).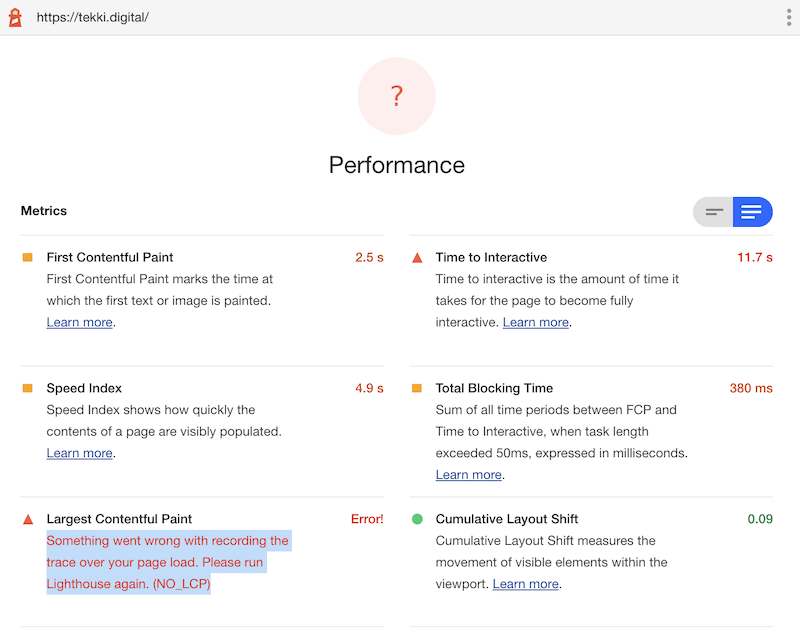 When checking my SEO blog's Lighthouse stats this morning, I came across the above error. Note that my website was WORKING properly, and no errors in my html, etc. It was just inexplicably telling me I didn't have a LCP(?).
How to Fix the "?" Score + Error in Lighthouse Metrics
After a bit of digging I found an answer to a similar question entitled, "How to fix "Lighthouse returned error: NO_FCP."? Top answers recommended:
Make sure no other Lighthouse tests are running/open
Clearing your browser's cookies + cached files
Running the test again in incognito mode
And though my issue was with LCP instead of FCP, following these tips worked for me — and I was again able to see my performance scores: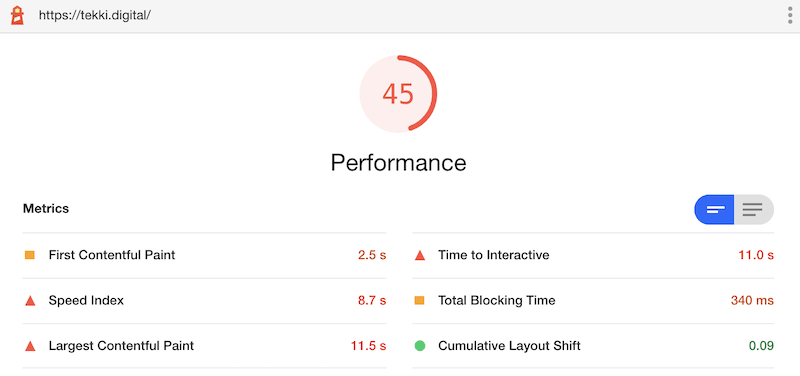 Don't stress — it's literally that simple. And it usually happens after you've made some recent changes to the page.
Still getting a "?" Performance Score?
The other interesting point that I learned in this thread was that Google Lighthouse has recently instituted a "15 second timeout". If your page doesn't respond or any content within ~15 seconds, Lighthouse will give you an error somewhere within the performance metrics read out. I recommend visiting this resource from web.dev (Google also recommends this resource) for general education and tips for improving your page load times.
Hope this helped! Feel free to drop questions in the comments.
Elizabeth Lefelstein
SEO expert with a specialized background in news, entertainment, and real estate websites | USC EMBA Candidate '24 | Based in LA | Can I pet your dog?