These days, it seems like you can't watch many YouTube videos without getting an ad for how much money you could be making if only ~ you too ~ became an Amazon Seller. Double-digit sales, million-dollar annual revenues, and promises to escape the rat race so long as you "smash the like button and download their affordable guide" (you know what I'm talking about, ha.)
Sure, on one hand, quitting a 9-5 job might sound exciting. But on the other hand, it's hard for me not to be skeptical about how much money some of these people are really making on the platform. Or, considered differently, how much work actually goes into achieving these kinds of sales and revenue numbers. After all, we're not living in the 1980's Field of Dreams movie. (I.e., Just because you build an Amazon Seller Shop, doesn't necessarily mean they'll come.) It'll take some research strategy!
To be clear, I'm not trying to knock these types of YouTube creators. Heck, I'm jealous! What is more, Amazon's own blog also highlights some really impressive success stories (which I trust even more.) But, I did think it would be interesting to do a bit more of a DEEP dive into what the actual landscape of selling on Amazon is like, what upfront costs you can expect, and some free tools that can help you prepare before you even "open your doors" on the platform.
So, in the coming sections, I'll walk you through some of the information I was able to uncover *** without actually creating an account myself *** to help you feel more prepared in taking the plunge into Amazon-Seller-hood. Or ya know, not. Anyways, ok, here it goes…
Table of Contents:
Understanding Amazon Prime's user base
In the US
There are an estimated 163.5MM Amazon Prime users in the United States as of 2022 (that's ~63% of the total adult US population based on the latest Census.gov numbers). And honestly, if your family is anything like mine 😉 , this number should be even higher when taking into account that family members can use one prime account per household for all orders.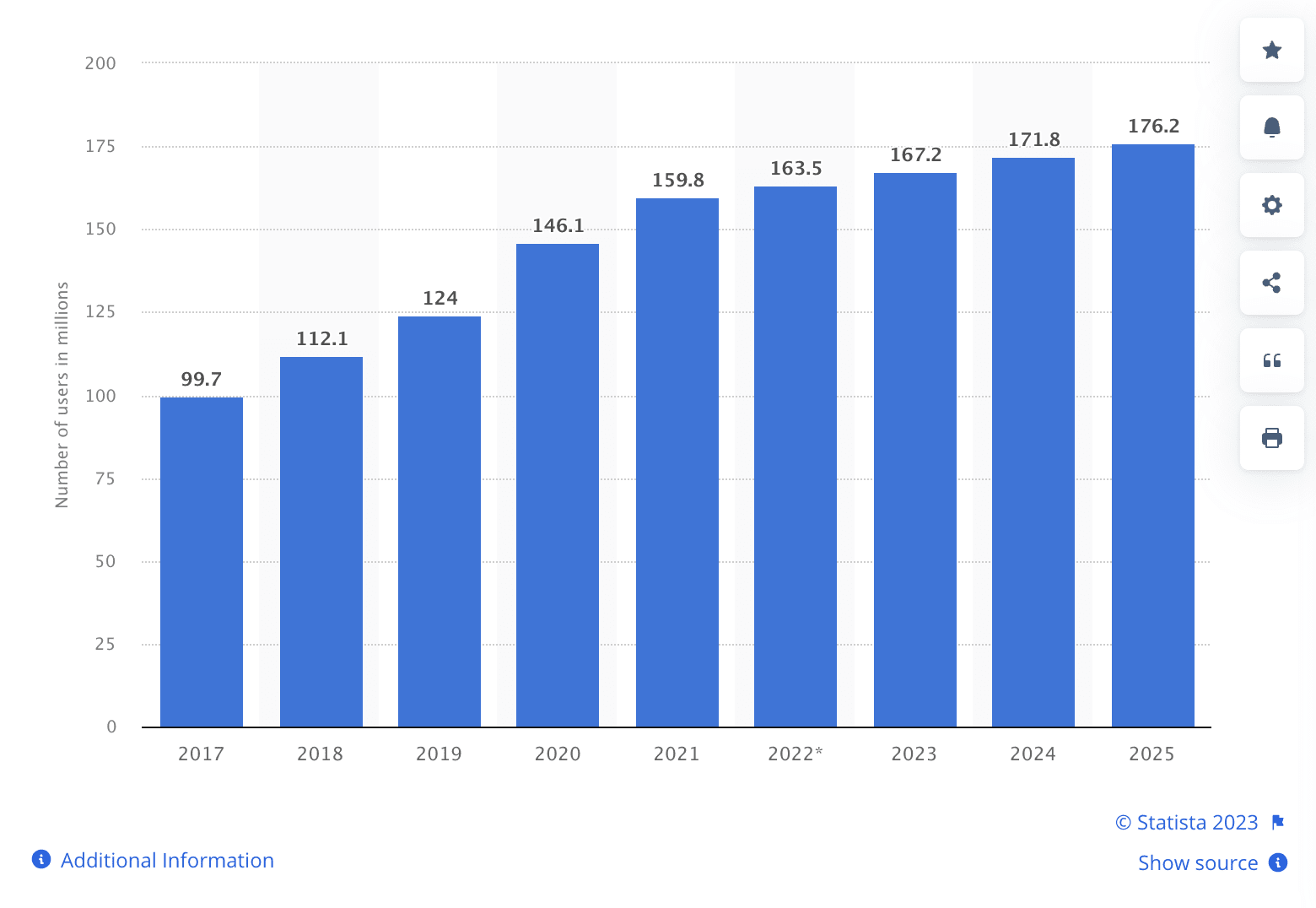 Worldwide
One of my favorite SEO blogs, Backlinko, has also looked into these types of Amazon stats, and discovered that the US accounts for ~74.% of all Amazon Prime subscriptions. Assuming this stat with my previous, that makes 221MM subscriptions worldwide in 2022.
Put briefly, from what I've been able to gather, the audience is THERE – especially if your target audience base is in the US. The alternative is, of course, to pay to create your own site, pay for hosting yourself, develop a loyal audience base, optimize your checkout experience, etc., etc., etc., but I can totally see how tapping into this already existing market could be a nice "shortcut" so to speak.
Upfront cost expectations
Subscription plan options
Ah, the elephant in the room. As you might very well imagine, Amazon seller real estate isn't free. But, depending on your sales forecasts, it isn't going to break the bank either. Amazon's website breaks it down in a pretty digestible format, but here is the gist:
The "individual plan" is the entry-level plan option, and Amazon charges 0.99 cents per item sold. Amazon recommends this option if :

You sell fewer than 40 units a month
You're still deciding what to sell
You don't plan to advertise or use advanced selling tools

The "professional plan" is $39.99 a month. Amazon recommends this plan if:

You sell more than 40 units a month
You want to advertise your products
You want to qualify for top placement on product detail pages
You want to use advanced selling tools, like APIs and reports
You want to sell products in restricted categories (apparently this list gets updated frequently, but you can see Amazon's published list here.)
In picture form, this is how they differentiate your two plan options: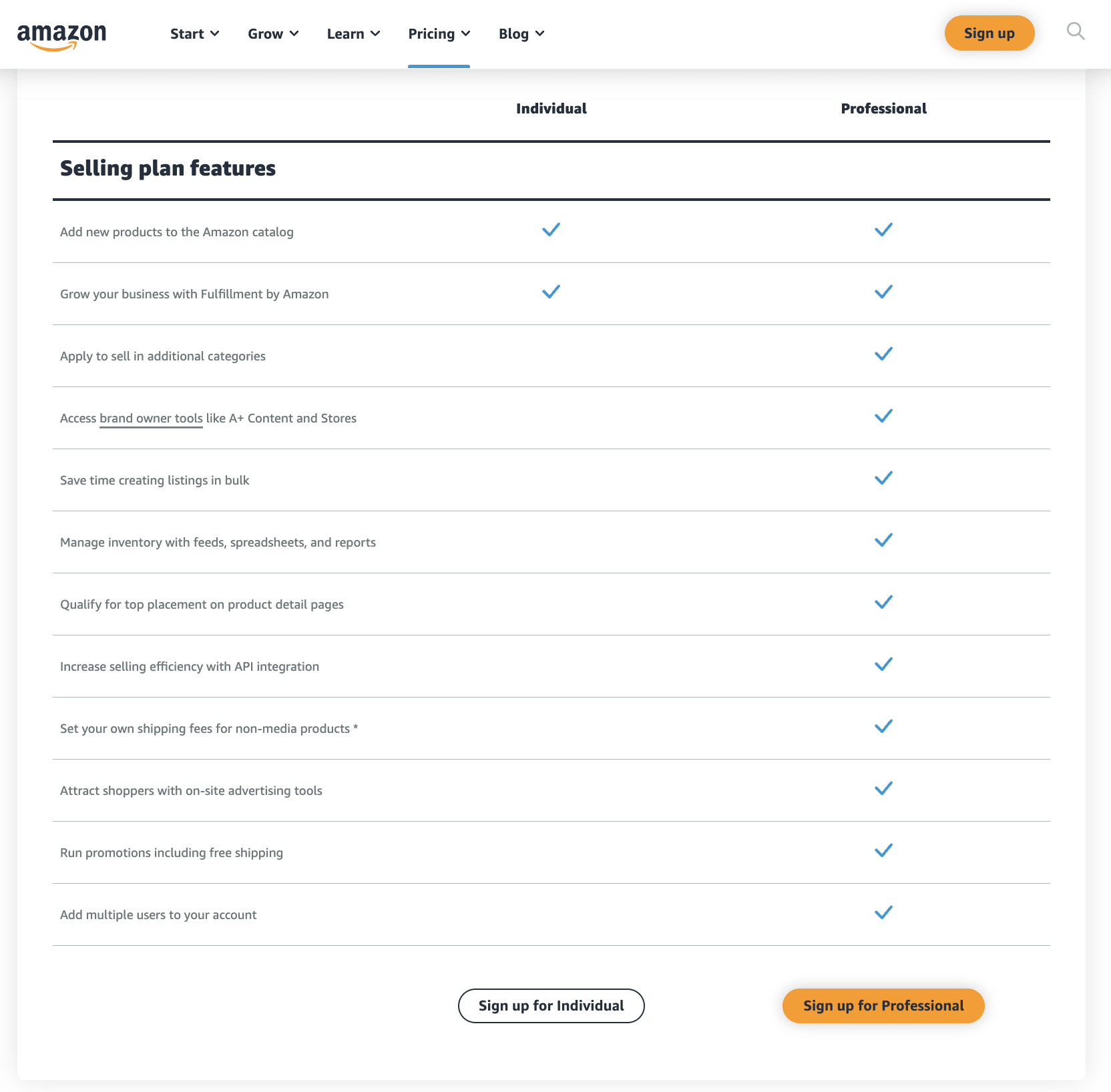 Amazon FBA add-on
What's more, sellers can opt into "FBA" as well (Fulfillment by Amazon) for an added price. From what I've been able to read, this is an, IMO, luxurious add-on that makes the seller experience way more hands-off. And what it is, essentially, is paying extra to have Amazon store, pick, pack, ship, and deliver your products to customers. Oh, and handle all of your customer service and returns.
If this sounds too good to be true, it depends. Here are some handy charts from Amazon to help you gauge how much this service would cost you:
To Ship: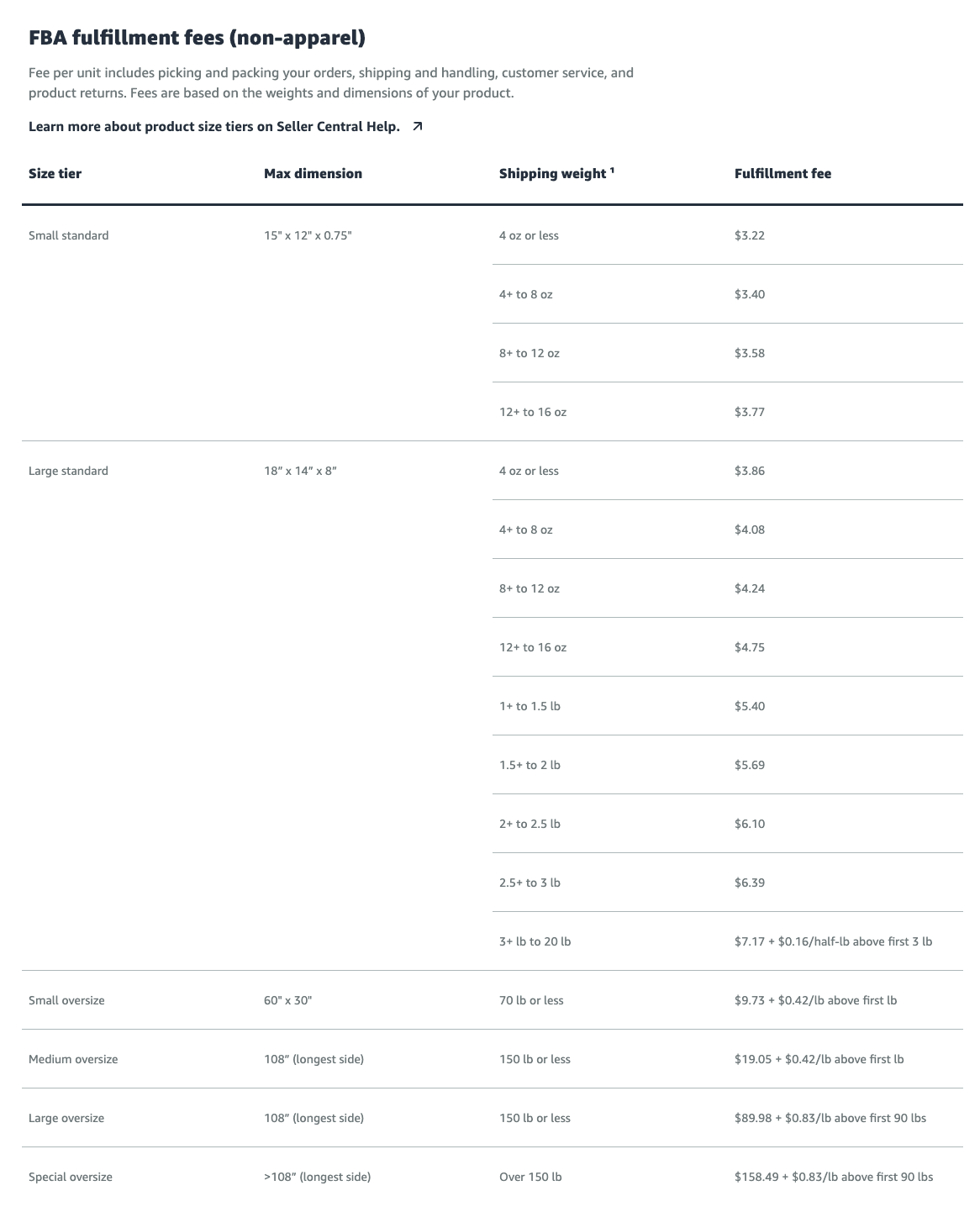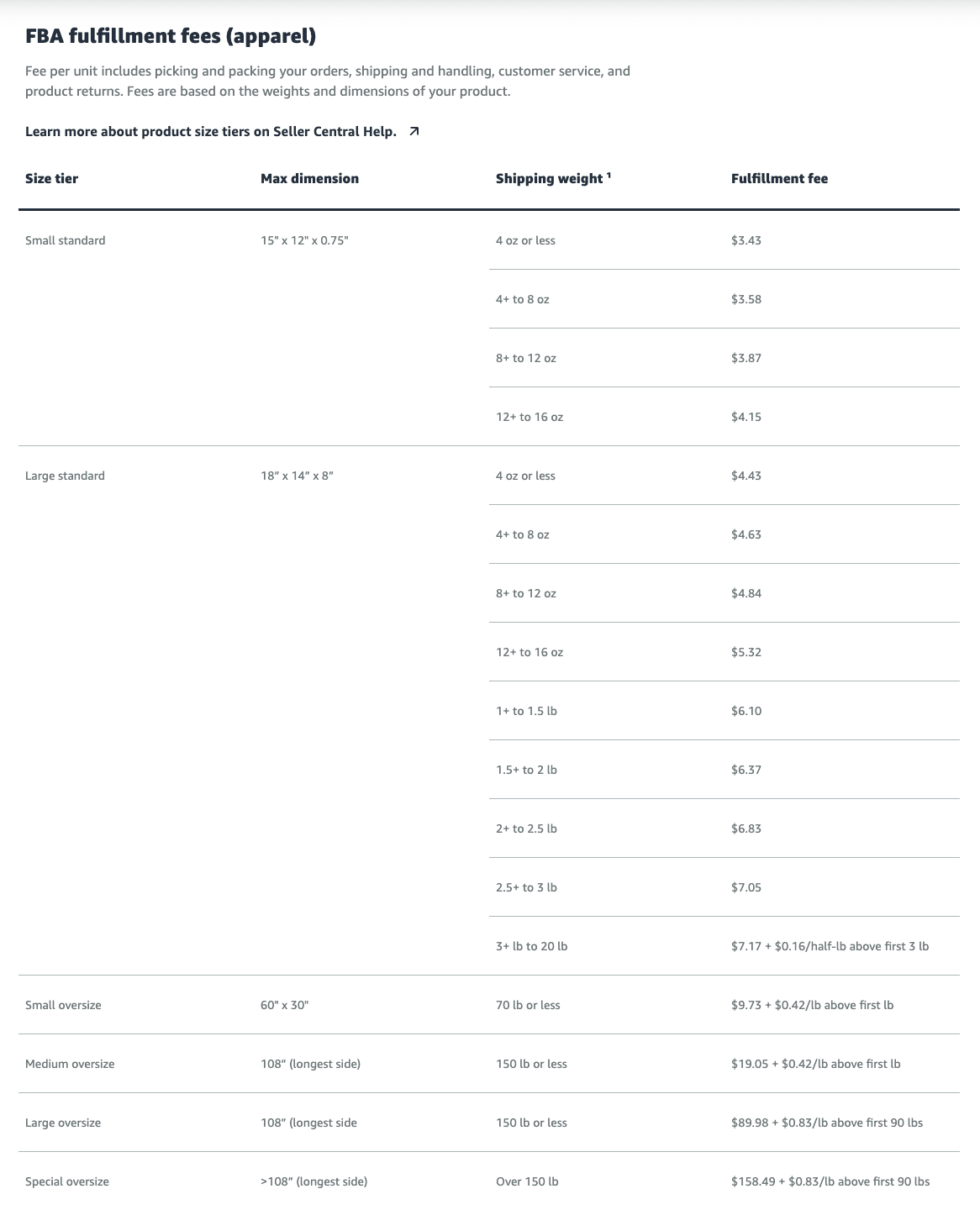 To Store:

How to source products
How advertising works on Amazon
On-Amazon advertising
Amazon has its own great resources on how it all works. Check out this video from their site to learn more:
Off-Amazon advertising
Beyond on-Amazon advertising, you've also probably seen Google Ads drive traffic to Amazon listings. In fact, according to the blog, LandingCube, as much as 25% of Amazon sellers use Google Ads to promote their products.
"At first look, the 25% figure may seem higher than expected. But once you realize that the average ROI (Return On Investment) for Google Ads is 200%, I wager your opinion may drift to the other side. If the average marketer using Google Ads gets a $2 return for every $1 spent… what's the reason for you not to use Google Ads for your business?", explains Landing Cube.
From what I've gathered, there are no rules on either Google or Amazon's sides regarding executing this strategy. So, perhaps worth experimenting. If you need help setting up your first Google Ad, Google itself has great resources. For example, check out tips for setting up a Google Shopping ad here, and smart ads here.
Recommended free research tools
Fortunately, there are a lot of awesome tools out there to help you run the numbers both before and after you "open your doors" for business. Collectively, this collection of free, freemium, and free trial tools can help you set realistic revenue expectations, and find ideal product niches and product variations, and SEO keywords to optimize for. So, without further ado, here are the top 5 free (and almost free) tools I've come across to help you develop your strategy.
1. Amazon's Revenue Calculator
Amazon's on-site revenue calculator allows you to run comps right out of the box to help you decide if, what, and how much money you can make by opening an online shop on their platform. And, even lets you run the numbers on whether it makes the most sense to fulfill orders via Amazon (FBA = Fulfilled By Amazon) or on your own.
Let's go through a quick example: Pretend that you are interested in selling jeweled headbands. You love them, your friends love them, and you think that you can do a great job of marketing them. But… what kind of margins can you expect? Forget your paper and pencil – simply input a similar type of product at a similar price point that you are considering selling your product and let Amazon's calculator handle the rest.

Once you have found a similar comp, adjust the "other costs", "storage costs", "estimated sales" sections, etc. and Amazon will automatically run the numbers and tell you what your revenue, costs, net profit, and margins would be given this scenario.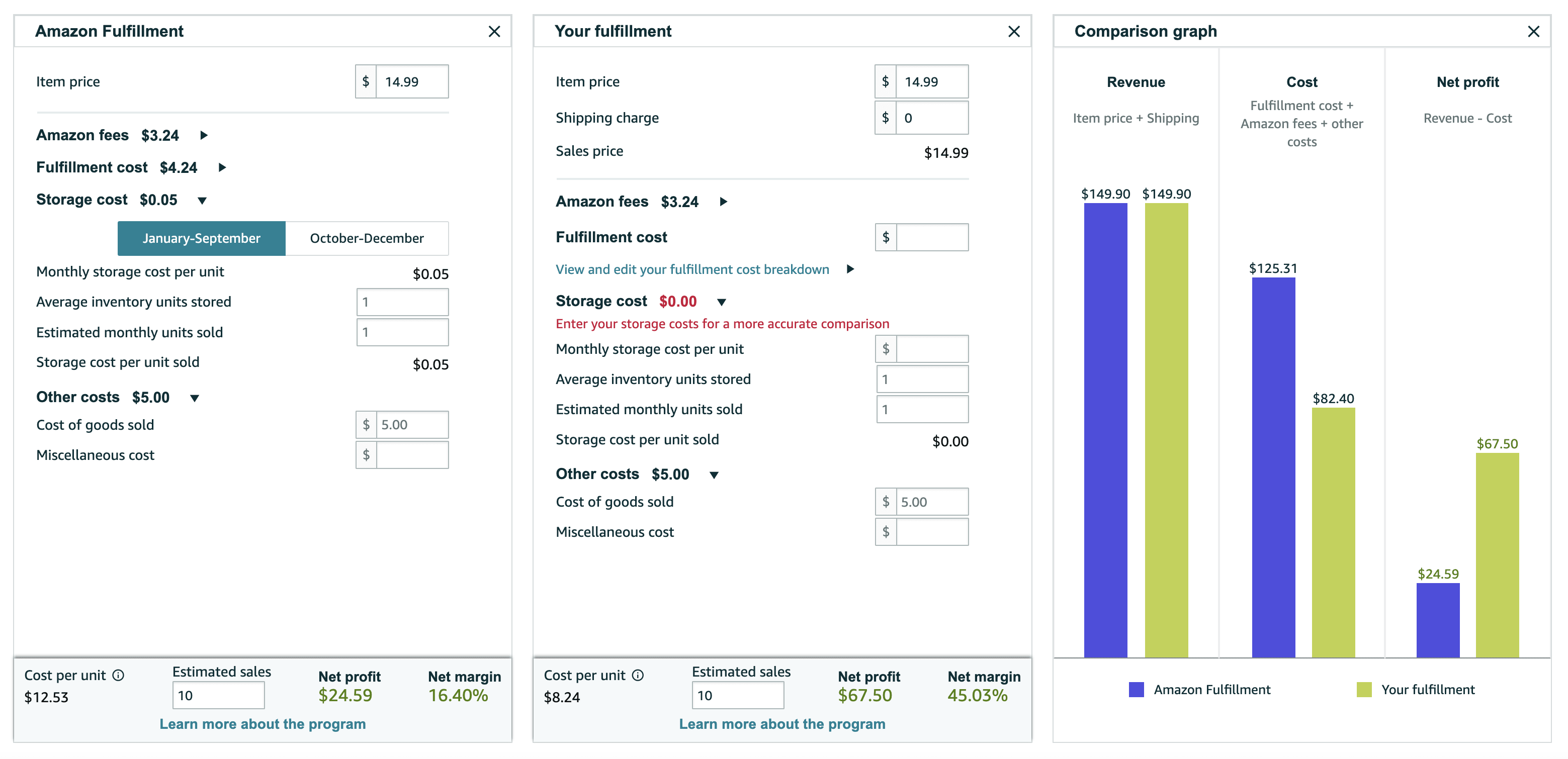 If you feel unsure if the net margins are "good enough", here's a handy tool to identify average margins across various industries (from NYU Stern research):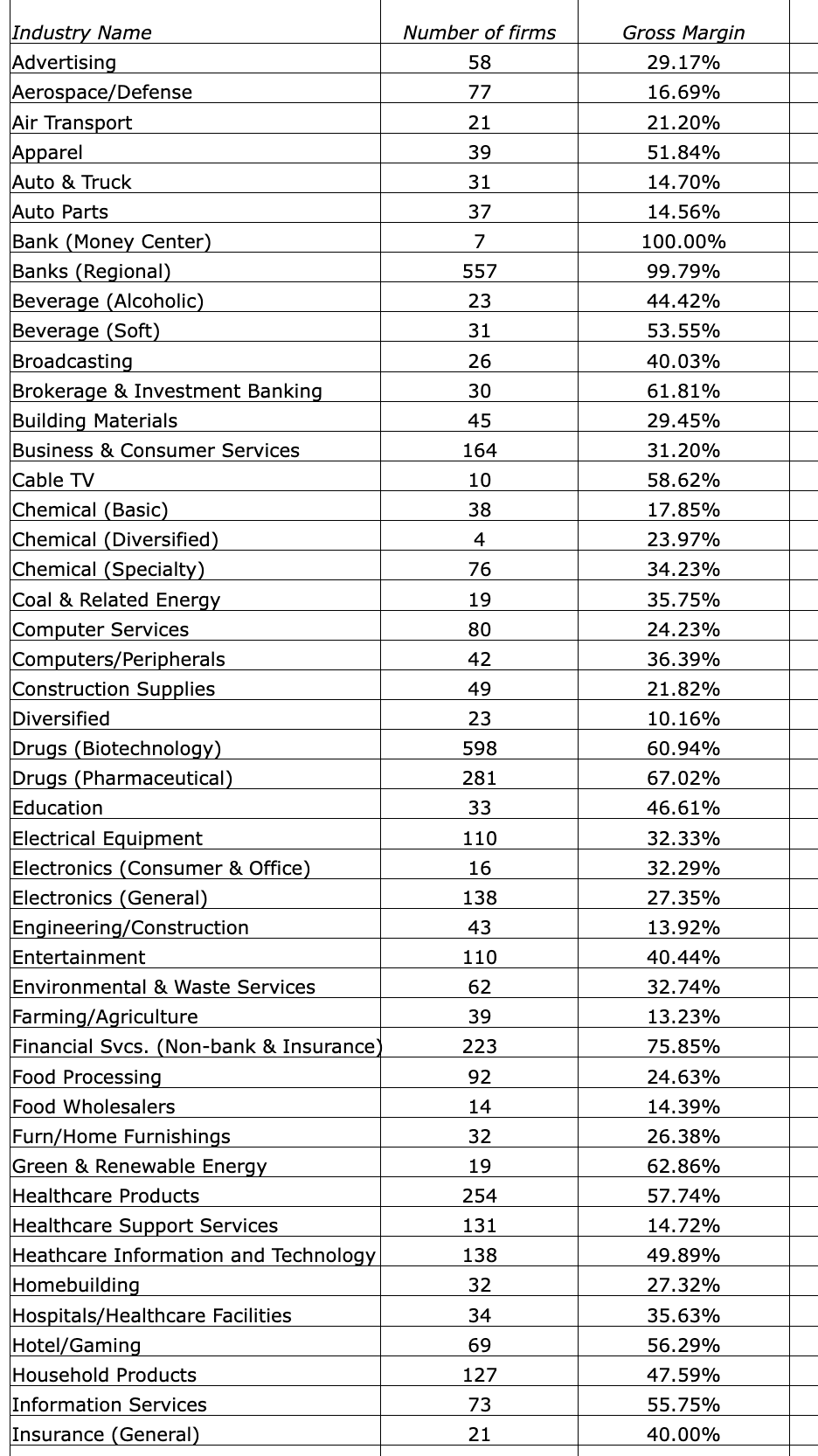 2. Jungle Scout Research Analytics
Another great tool is Jungle Scout. While not free (it's a monthly subscription service) they do offer a 7-day money-back guarantee. So, you can definitely do some preliminary research during this time frame to brainstorm high-demand // profitable products to sell. Plus, they also have a different proprietary calculator to run additional forecasting numbers (similar but different to Amazon's.) Once the seven days are up, the monthly subscription price for new sellers is pretty affordable, starting at $49 at the time of this post. Here's a quick lil' tutorial that they made to explain their unique benefits:
3. Google Trends
This one isn't an Amazon Marketplace tool * specifically * but it can definitely help you wrap your head around various niches' demands over time. For example, let's go back to the jeweled headband example. Perhaps you're unsure what color headband would be most in demand. Pink? Purple? Blue? Google Trends can answer this question for you based on Google Search demand trends over whatever time frame and filters you want to use. And from the looks of things (see chart + left-hand side key), blue headbands have had the highest search demand in the US over the past 12 months from these choices.
As you might imagine, this tool is great for comparing products across totally different niches as well. You can give it a try yourself here.
4. Helium Google Chrome Extension
This Google Chrome extension is a freemium tool, with the base-level version providing some competitive seller insights and the paid-for version offering even more. Below are some quick examples of the type of information you can garner from the free version in a quick, click of a button via the extension. Oh, and you can download the extension and try it for yourself here. (To use it, just download the extension, pin it, and click on it when you're on a competitor's listing page.)
Xray keywords:

Profitability estimates: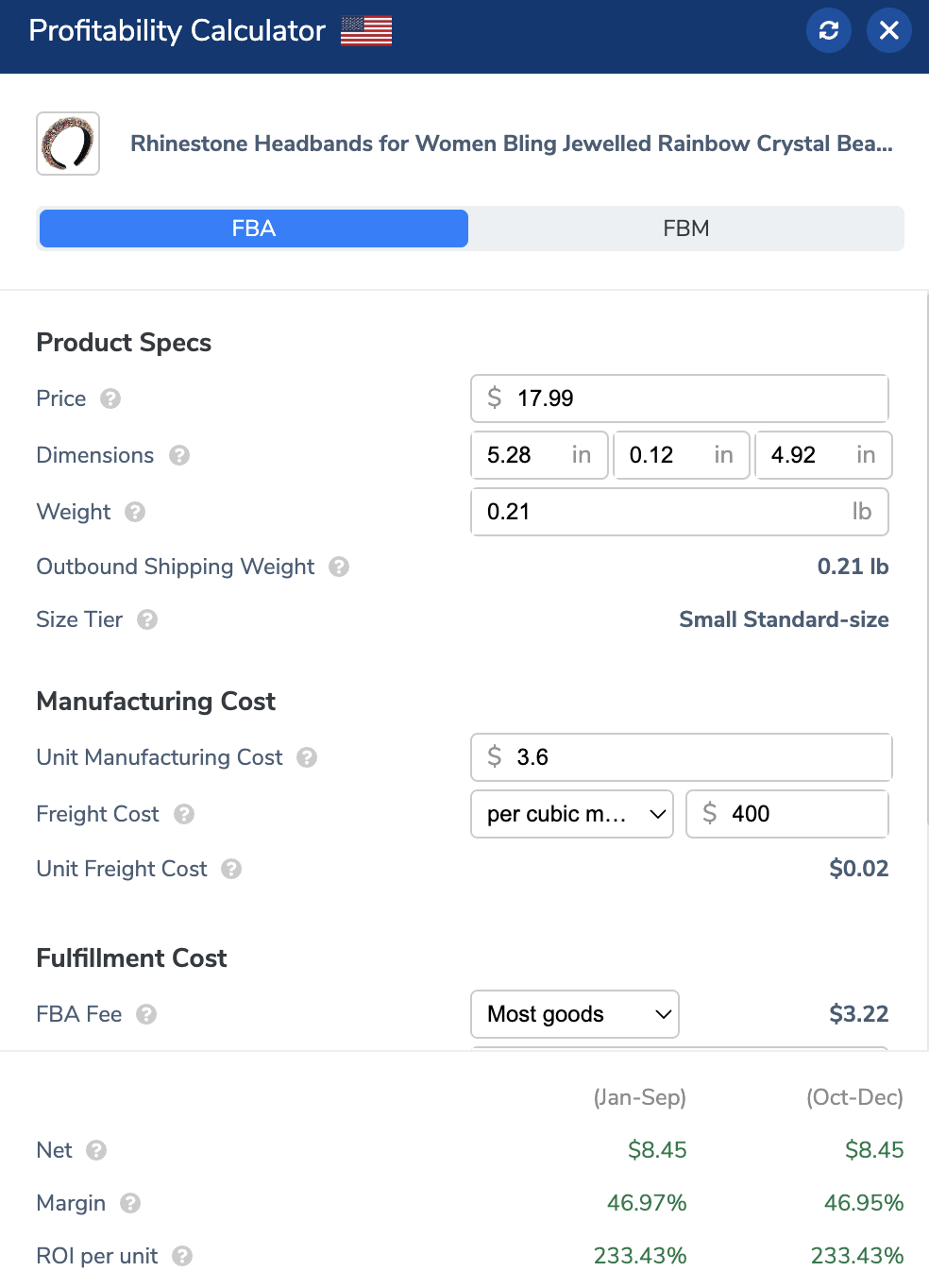 5. AMZ Tracker
AMZ Tracker seems to be the most like the more popularized tool, SEMRush, if any of you reading are familiar with that tool. Only, more specialized for the Amazon platform. The tool is great for once you get started on Amazon, as it offers keyword tracking, optimization tips, negative review alerts, competitor analysis, and more. A few other interesting tidbits:
Ranking data for your store is kept for one year and sales tracking data is kept for one month
You can have as many products as you like on your account
Keyword rankings are updated once a day. Best Sellers Ranks are updated once a day
Tool offers rank for the top 19 pages of Amazon. This is equivalent to the top 300 products
Yes. If you add a parent product to AMZ Tracker, all the child products (or variations) are automatically tracked too
The best part about AMZ Tracker is that they offer a seven-day free trial, so you can give it a test drive before committing to its entry-level $50/month rate.
Wrapping Up
All in all, I hope that this post at least kinda, sorta made you feel more aware and prepared to enter (and succeed) in Amazon-Seller-hood. Or again, not! Feel free to write me if you have any other questions on how you can do your due-diligence before starting your online store, or any other more SEO-specific questions.