What is SparkToro?
SparkToro is the latest brainchild of renown SEO, Rand Fishkin and his co-founder, Casey Henry.
A search engine that serves marketing research and audience intelligence, the duo explains the "how" and "why"of their product succinctly on the homepage of their website:
"[SparkToro] crawls tens of millions of social and web profiles to find what (and who) your audience reads, listens to, watches, follows, shares, and talks about online."

SparkToro
Freaky, but awesome.
In a recent recent interview with Fatzke Media, Fishkin elaborates on the concept – saying that SparkToro was created to help marketers answer one basic question, "where does my audience hangout online?"
"What blogs and websites do they read? Who do they follow on Twitter and Instagram? What Facebook pages do they like? What YouTube channels are they subscribing to? What podcasts do they listen to? What events they go to? Right. Who are the influential people who are the sort of big minds that they follow in their field?"

Rand Fishkin, interview with Fatzke Media
Why is this software such a game changer for digital marketers?
Figuring out where target audiences hangout online and which influencers they admire has always been a convoluted and time consuming process for digital marketers – with research conducted via google searching, surveying, and interviewing.
Fishkin promises that SparkToro to be "100 times faster" than any other method/product available on the market today – according to a recent podcast interview with Digital Marketing Podcast.
In affect, marketers will need to rely less on "spray and pray" marketing strategies, and have a more data-backed idea of where to spend dollars – which might just be just one platform.
"I think that a ton of early stage folks get overwhelmed by the number of channels they think they have to invest in — and they don't. You can really kick butt with one! Literally, just one."

Rand Fishkin, interview with Wistia
When will the tool launch?
Beta Test:
As of mid January 2020, there are ~300 some companies that have been invited to use the Beta version of the tool. SparkToro will not be inviting additional brands to participate.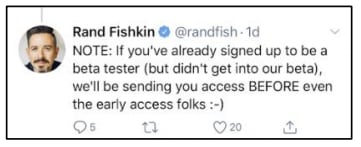 Businesses that signed up to be a beta tester and didn't get in will be sent access to the platform before early access folks.
Early Access:
Fishkin mentioned in a tweet earlier this week that Spark Toro's early access launch will be coming in the next few weeks. Businesses can request this early access by completing a form on the homepage of their site.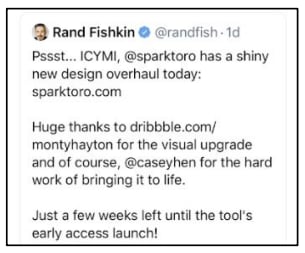 To 'jump the line' and get the notification within the first group of notifications, you can complete the emailed survey that comes as a follow up to the form.

Hard Launch:
SparkToro hasn't announced a hard launch date of this tool yet.
Expectation Setting: How much will SparkToro cost?
SparkToro offers several pricing tiers from $0 to $600 a month, making it accessible to companies of any size.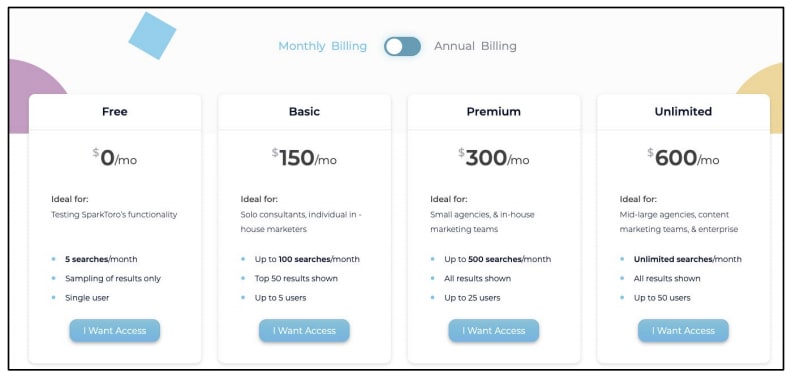 Summing it all up…
In essence, SparkToro is a search engine for audience intelligence. It aims to help marketers identify where their target audience hangs out online – so that they can promote their brand's message most effectively / generate the highest ROAS.
Want to learn more about what Fishkin and Henry have to say about SparkToro? I highly recommend listing to this Stitcher podcast interview:
For a behind-the-scenes peek at how SparkToro works, check out this asset created by Fishkin:
[slideshare id=JLAh65pKaTTqAZ&w=595&h=485&fb=0&mw=0&mh=0&style=border:1px solid #CCC; border-width:1px; margin-bottom:5px; max-width: 100%;&sc=no]
Free SparkToro Tools to Enjoy While You Wait
While you wait, SparkToro does already offer several free tools to help you measure the true influence of social media accounts online. Including:
Heading img source: page2podcast