While it's an SEO professional's job to know how to optimize for search and a journalist's job to know how to write stories, both have the same end goal: to drive traffic to their web publication.
To help both SEO and editorial teams succeed in this endeavor, I've found it hugely beneficial for SEO pros to provide foundational SEO training and regular office hours to their journalist comrades. The benefits I see in doing this are:
It transitions the responsibilities of SEO professionals from a reactive clean-up after the post goes live to proactive work on advanced SEO strategies (since the editorial teams have got your back on the foundational elements).
It puts more power into the hands of the journalist to help market their content to new audiences.
In this post, I'll cover eight things that journalists should know about SEO – from how it works to the benefits of prioritizing it to some foundational best practices to bookmark for their future writing.
Thing to Know #1: SEO Is a HUGE Referral Source for News Publications' Web Traffic
According to recent research, 68% of U.S. adults surveyed get their news at least sometimes from news websites and apps, and 65% said they get their news at least sometimes from search. In tandem, these statistics emphasize the sizable reward for journalists to prioritize SEO (in addition to the work that the SEO team does).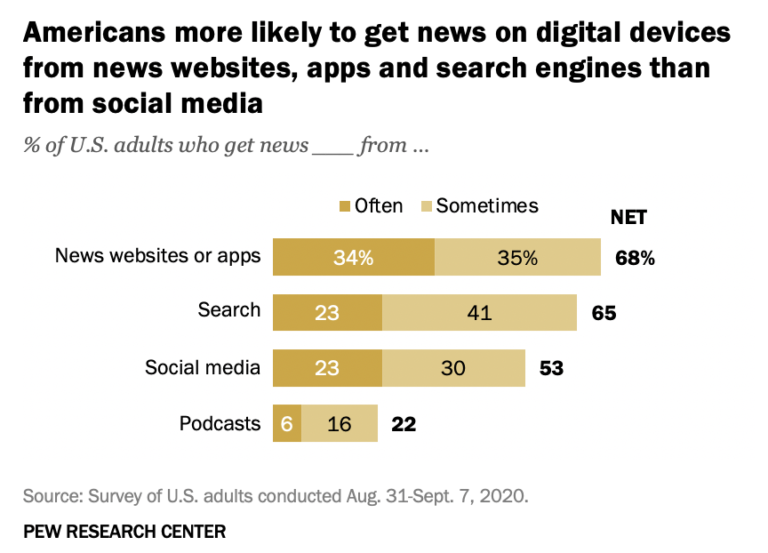 Thing #2 to Know: Search Engines, Like Google, Try Their Best To Match Searchers With Relevant Content. And Using Literal Language Helps.
Boiled down, the goal of search engines is to match searchers with relevant content. To make a strong match, it helps to think literally about the keywords that you would use if they were trying to find their article. And then sprinkle them in important areas throughout the piece.
While in-depth keyword research is great, I would suggest that as a journalist, perhaps you don't need to venture further than that. The SEO team's specialty is keyword research and can be left to them.
Do use relevant keywords, don't keyword stuff
Google's John Mueller elaborates on this idea, as covered in a December 2020 article from Search Engine Journal:
"It's [keyword stuffing] not against our webmaster guidelines. It's not something that we would say is problematic. I think, at most, it's something where you could improve things if you had a better fitting title because we understand the relevance a little bit better.

I suspect the biggest improvement with a title in that regard there is if you can create a title that matches what the user is actually looking for then it's a little bit easier for them to actually click on a search result because they think 'oh this really matches what  I was looking for."

John Mueller, as quoted in Search Engine Journal.
Another interesting thing to point out here is the play on words.
We see it all the time on social and print publications, and I, for one, love a good pun. That said, for SEO specifically, it can confuse search bots when trying to make a match. For example, a 2013 article from the LA Times used the article headline: The Prince of Wails Has Arrived for a story covering the birth of a royal baby. SUPER cute, but not the clearest to Google as to what to rank the page for.
A more literal title that used search terms that people are likely to type in, such as "First Child of Prince William and Kate Middleton Is Born" could have helped the Google bot know what to rank the page for. (I chose an old article on purpose here because I don't want to put one of my favorite news publications on blast 🙂 ).
Try asking yourself: "What keywords or key phrases will people ideally type in to find this article?" And then, make sure they are reflected in the VIP areas of the page.
That all said, I admit that you sometimes can't help yourself — as I did with my 2020 article: "NFL.com Fumbles its Website Revamp". The point is, know that literal language helps Google bots… but that's for you as the writer to decide.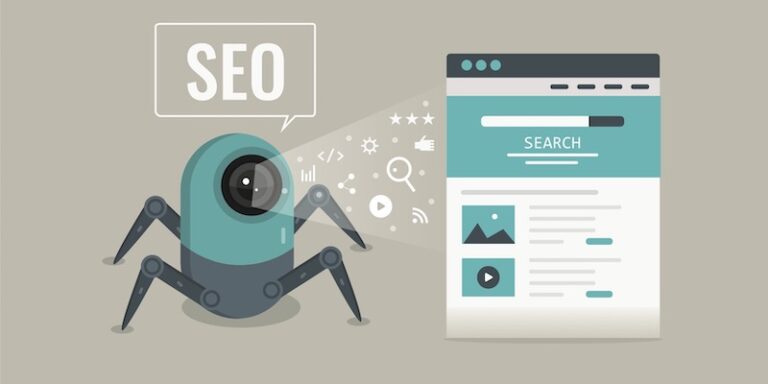 Ok. So now that you're caught up to speed a bit let's talk about what these "SEO elements" are that you should be prioritizing while you write…
Thing to Know #3: Have Your Title Tags And Headlines Match
First, it's essential to know what the word "title tag" even means… because that's a pretty "SEO" term. A title tag is the blue text shown in Google search results. And to be best optimized for SEO, it should match the headline of the article. (If yours doesn't, you may want to chat with your product team. But typically, this is how a CMS is set up out of the box.)
Simply knowing that your article's headline is supposed to double as its Google "advertisement" is helpful, in my opinion. But to get more specific, it's best practice to:
Include those keywords and key phrases that we discussed in the introduction of this article.
Keep it under 95 characters and avoid punctuation, especially double quotes (").
Use names of important people, places, and events as close to the front of the article as possible.
While Google has gone on record saying it's OK to have more than one H1 on a page, industry pro Barry Adams suggests only using one. This makes sense when you think about "Top Stories" 's role within this niche.
Thing to Know #4: Keep Your Publication's URLs / Subfolders Clean
I like to compare article URLs / subdirectories to a filing cabinet.
OK yeah. Not the best example of a "clean" filing cabinet, but you get the idea.
All of the content on your site should be neatly filed in different subfolders. And when a visitor lands on an article, that clean filing system should be reflected within the URL structure. Here is an example:
Travel and leisure files all of its airlines and airports content into one subfolder and then files its article underneath that. It's OK to have one subfolder or several – as long as it's filed in an organized way.


The benefit of a clean filing system goes WAY beyond aesthetics. Sites can get an The benefit of a clean filing system goes WAY beyond aesthetics. Sites can get an SEO boost by setting URLs up this way, and it also helps ensure that breadcrumbs are consistent across the site.
Also, ending URL slug (what makes the article's URL actually unique) should match tAlso, the ending URL slug (what makes the article's URL unique) should match the title tag. Travel and Leisure also does this well. You may notice that many publications will remove conjunctions within the sentence, which is also A-OK.
While tidy sub-folders should be the responsibility of the SEO team, having URL slugs match titles is typically within the journalist's control. I have seen this go wrong in the past when keywords are "artificially" stuffed into URL structures. Please, please don't do that.
A caveat is that many top publications don't necessarily have a squeaky clean "filing cabinet," and they are still ranking well. So, this isn't an end-all-be-all recommendation. But still, we're talking BEST PRACTICES here, and this is one of them.
Thing to Know #5: Meta Descriptions + Stand-Firsts Should Be Treated Like Special Advertising Space.
A meta description is the black text shown in search results and plays a critical role in click-through rates from Google into the story. Once on the page, a visitor will frequently see the article stand-first. The purpose of the stand-first is to provide key points from the story and encourage visitors to read the entire piece. Both pieces of text are exceptional 'advertising' spaces to reel in your readers.
The similarities between these two items are why I typically recommend coding the article template so that the stand-first is pulled in automatically as the meta description. This is often already the case for publications. If this is not how your publication is set up, try to make them similar.
At any rate, here are some best practices that journalists should know:
Know that the first 1-3 sentences (~160 characters) only will be pulled in as the SEO meta description. Use this space to include the same keywords in the title tag and headline.
Start your description with an action verb, when possible, to encourage higher click-through rates.
Include secondary keywords that users are probably interested in, such as date/time/location.
For the SEOs reading this article, also note that I like to tag stand-firsts with an H2 tFor the SEOs reading this article, also note that I like to tag stand-firsts with an H2 tag – something to consider.
Thing to Know #6: Don't Neglect Interlinking Strategy
Internal links refer to links from one of your own publication's pages to another page on-site. This, versus a link to your site from a different publication's site pointing to yours — that's an external link. (For more information on the general benefit of having internal links, you can check out Yoast's piece here.)
When we think about News SEO specifically, I like to break up internal links into different categories. The first is 'section links' from the homepage and category pages that feature top articles. The second is in-body links from one article to another.
Surface level, this is good for your site because it helps visitors find interesting content faster and encourages a longer time on site. This is ALSO helpful for a more technical SEO reason — by sending stronger signals as to the hierarchy, relationship, and importance of each page is relative to one another. In other words, a page with dozens of internal links will be thought of as more important than a page with no internal links.
But from a best practices perspective, how do you do internal linking "correctly"? Here are some quick tips:
Section links: The anchor text to these articles should match the article's headline, if possible.
Section links: If preview text is shown, it should match the stand-first/meta description and be clickable.
Section links: The image should be optimized with the .jpg name being that of the headline as well as the alt-text, and also be clickable.
In-body links: Link to other contextually relevant articles, using keywords that you would like our site to rank for as the anchor text.
In-body links: Add a few "featured" links at the bottom of the page to other relevant stories people may want to read next.
Thing To Know #7: It's Hard To Rank In The Coveted, Top Stories Carousel Without Optimized Images
The images in an article are a great way to improve the click-throughs from Search Engines, as they are shown prominently in top stories carousels. Optimizing your articles' images for top stories can help increase your chances of being featured.
Here are some quick tips to optimize your news images:
Sizing: Google explicitly recommends that images be at least 1200 pixels wide and fall into one of these three aspect ratios: 16×9, 4×3, and 1×1.
Alt-text: This is the text that appears on websites if you mouse over the image. The text should match the article's headline.
.jpg file name: This is the actual filename of the image. It should include the primary keywords of the story and be the same as the headline.
Caption: Should describe what is happening in the photo in 1-2 sentences, using primary keywords where relevant.
For more detail on how to optimize for Google News, I highly recommend reading Barry Adams' piece here.
Thing To Know #8: Perform a "Final Check" After Publishing… Just For Good Measure
Once you have published your article, give Google 15 minutes or so, and then perform a site search for a query you'd like your page to rank on. A site search means typing [site:Example.com "Example Keyword"] into the Google search bar.
If your post shows up as #1, this is a quick way to tell if you did a good job optimizing for said keyword. 🙂
Conclusion
Funny enough, as I was wrapping up this piece, I stumbled across a LinkedIn post from Louise Story, Chief News Strategist at The Wall Street Journal, that read:
"You can only move the needle on SEO if everyone from your reporters and editors to your product managers and engineers focus on it."

Louise Story, Chief News Strategist at The Wall Street Journal
This summarizes my sentiment quite well: SEO isn't just the responsibility of SEO professionals. It takes a village. And by knowing some of the key SEO fundamentals to web writing, journalists can help extend the reach of the content they took such great care to create. I hope my article can serve as a bookmark-worthy resource for editorial teams and an outline for SEO pros looking to train their co-workers on the fundamentals of editorial SEO.
MORE: Obsessed with News (Editorial) SEO? You HAVE to subscribe to Barry Adam's News SEO blog here: