Are mega menus a good strategy to boost SEO performance on your website? In short, yes they can. But, there are some caveats – including your adherence to SEO and UX best practices – as well as the industry vertical of the website. Read on to learn more.
What are mega menus?
Mega menus refer to a top navigation structure that, upon hover/click of a menu choice, shows an expandable set of options to explore deeper areas of the website via multiple columns and subheadings. Mega menus are similar to drop-down menus in that they both feature more information upon hover. But, they differ from drop-down menus in that they are much more robust – taking up more than a single column of additional options. Here are two quick examples:
Example of fashion/beauty e-commerce website mega menu: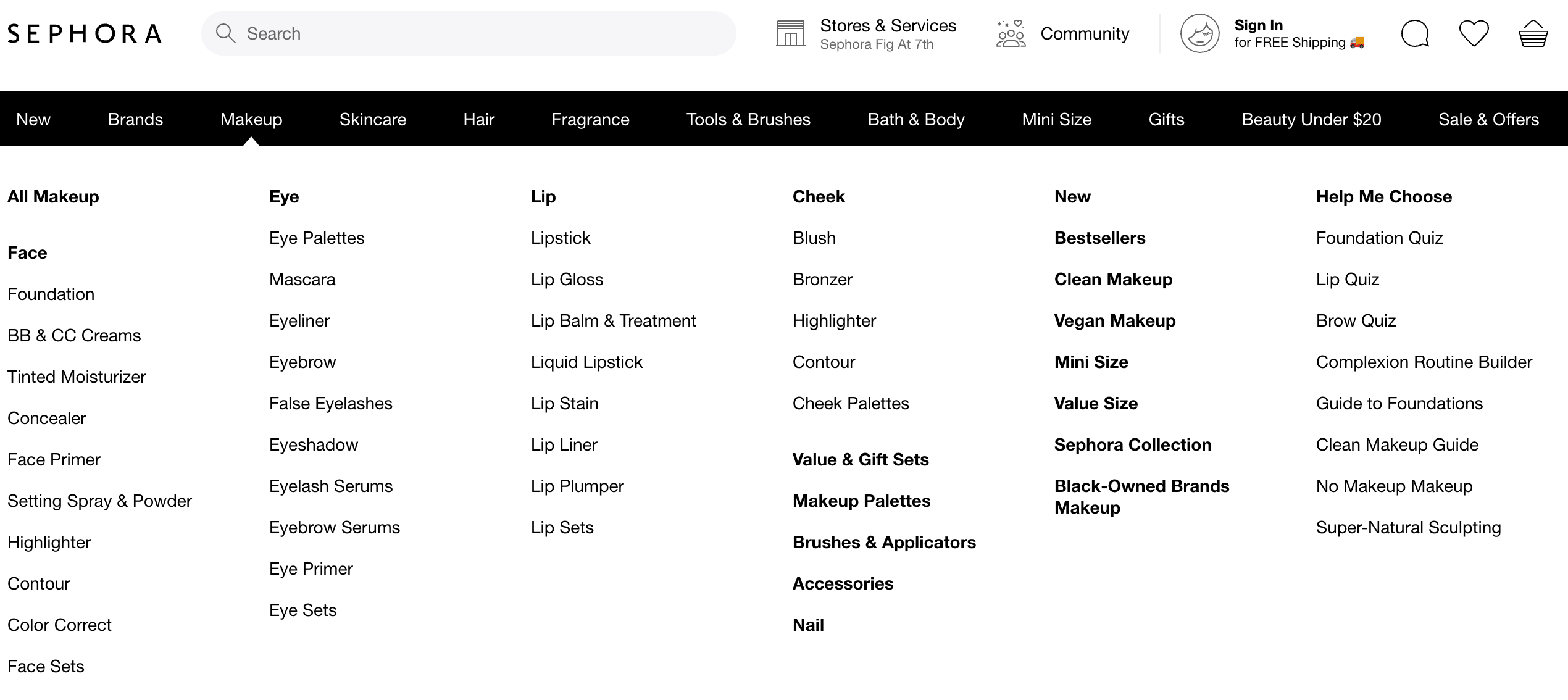 Example of streaming website mega menu:

Example of air travel website mega menu:

Are mega menus "good" for websites?
SEOs have debated the merits of mega menu use for years… with some articles citing that mega menus dilute link equity (an SEO concept) and create code bloat, and other websites citing that it can help lift website traffic to deeper areas of the website.
My opinion? I love them. The caveats are:
It depends on the industry/size of the site you're working on. If you don't have many categories, sub-categories, and products, a mega menu isn't feasible or necessary
Mega menus need to be implemented strategically. While a well-executed one can work magical wonders, poorly executed top navigation mega menus can do the opposite. Some quick tips:

Have SEOs and UX experts work collaboratively on the structure of the mega menu
Use keyword-relevant anchor text on all links
Ensure it has a responsive design
Consider subheadings if the options span across several content silos or subfolders.
Include a search bar nearby

If you do link to individual products, try to keep it to a handful that continually alternates.

Linking to category and sub-category pages tends to be a more strategic choice than individual products
Mega menu research findings
My opinion and SEO best practices aside, it's interesting to discuss how common various types of top navigation styles are used on real published websites – especially across various industries. So, I compiled a list of 142 websites spanning 13 sectors (11 websites per industry). I then took note of what top navigation method was used on each website on my laptop device, adding a "1" next to each type when the site used it. At the end of the analysis, 77 used a mega menu, 30 used a drop-down menu, 27 used a static menu, and 9 had no top navigation menu. Additionally, 9 websites also included a supplemental hamburger menu. Put into percentages, this means:
54% use a mega menu
21% use a drop-down
19% used a static menu (no expansion)
6% had no top navigation menu
6% had a supplemental hamburger menu of options (in addition to the main top navigation)

That said, there are tangible differences in top navigation setup across industries
While mega menus were the most common top navigation type observed in my analysis, there were tangible differences in setup across industries that are worth exploring. For example, the data illustrated that some industries were much more likely than others to use mega menus. The top industries most commonly using them are (see table II):
Beauty/fashion e-commerce (100%)
Air travel (91%)
Art (82%)
Furniture & Automobile (82% each)
The industries least commonly using them are:
Streaming & hotel (18% each)
Sports teams (27%)
Web bulder related and Sports teams (36% each)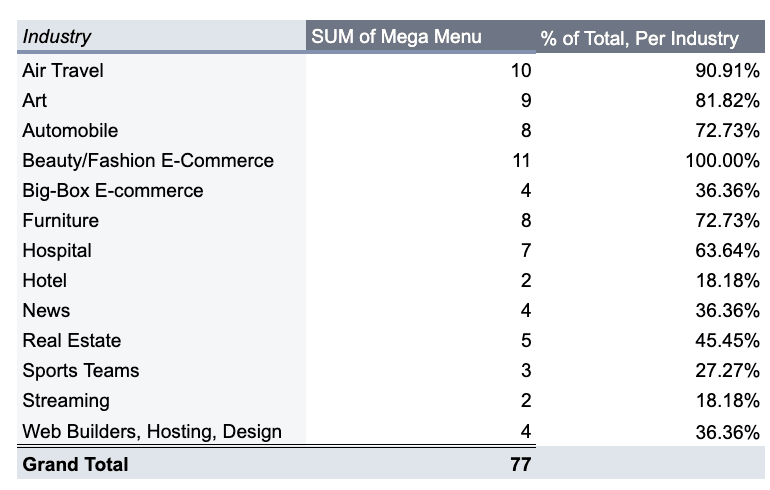 Other interesting takeaways:
Beauty/fashion e-commerce sites are more likely than other e-commerce sites to use mega menus
In table II above, we can see that while only 36% of "big-box" e-commerce sites used mega menus (4/11), 100% of "beauty/fashion" e-commerce sites used them (11/11).

Newspaper sites are more likely to have static navigation – paired with a supplemental hamburger menu of options
In table III above, we can see that while many industries had zero instances of supplemental hamburger menu navigation usage, news websites in particular used them 36% of the time.

Streaming sites are the least likely industries to use mega menus, with 72% of them using no top navigation at all
In table III above we can also see that streaming sites were the least likely industry to use mega menus – with 72% showing no top navigation options at all.
What this research means & opportunities for further research
Let's take a step back and discuss what this data actually means. I want to be clear that this data is not meant to declare which top navigation type is best for SEO, nor is it that there a is set type that's correct to use by industry. The data simply shows what is most common across the internet.
That said, there are some assumptions that we can make – that are at least, worth further research and exploration. Such as:
The assumption that what is most common tends to be what works the best
The assumption is that websites, particularly larger websites, tend to A/B test often – and therefore have the data to back up the top navigation choices they make that are most helpful for a particular VIP business goal
With these assumptions in mind, opportunities for further research are to:
Explore the connection between estimated monthly SEO traffic volume and top navigation usage (i.e., do the highest traffic driving sites across all industries use a certain type of menu?)
Explore other device-type navigation setups – particularly mobile
In Conclusion: Industry Type & Implementation Strategy Matters When Deciding To Implement A Mega Menu
If you're on the fence about adopting a mega menu for your website, my recommendation is twofold: One, consider what other websites like yours are doing (why invent the wheel when you can observe what competitor sites have already A/B tested and learned?) And two, hire an expert to ensure whatever method used is executed strategically.