Why & How to Get your App Indexed by Google
It's 2018, which means two things for business owners. One, you absolutely should have an app. And two, it absolutely should be indexed by Google.
This blog post covers the "why" and "how" elements of getting your app indexed – by discussing the current competitive landscape of app indexing, the perks of indexing your app, and lastly, a three step guide for getting it accomplished.
Competitive Landscape of App Indexing
Most major brands have apps available for download in iOS and Google Play stores. However, research tells us that most apps aren't getting nearly as much exposure as they deserve – and would receive – if they were included in Google's index in addition to the app stores.
Most apps aren't getting nearly as much exposure as they deserve – and would receive – if they were included in Google's index in addition to the app stores.
Quick Stats:
84% of the top 100 US domains offer a mobile app. Yet, only 30% of this group have their Android app Google indexed, and 19% have their iOS app Google indexed.
60% of apps are discovered outside the app store. And more specifically, 27% is found through search engines.
In other words, getting your app indexed by Google is a highly strategic and competitive move. And the best part is, it's pretty simple to do. More on this later.
Perks of Getting your App Indexed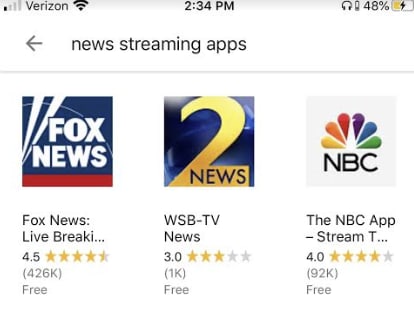 Having your app indexed by Google offers several perks, such as higher organic website rankings, improved user experience for mobile users, and app pack results. In essence, it helps bridges the gap between your already popular website and its associated app. Ultimately, this boosts downloads, sessions, time-in app, and conversions from both platforms.
Quick Stats:
36 apps, on average, are installed on a person's smartphone at any given time.
25% of these installed apps are used regularly
150% increase in app downloads, MoM, has been documented as a result of app indexing.
The takeaway here is that app index can help boost organic visibility of both your website and your app, as well as aid in re-engagement for users that have already downloaded and "forgotten" about it.
How to Index your App
For all of the benefits that app indexing offers, it's fairly simple to execute – able to be accomplished in one (to three) steps.
Support deep links in your mobile app – This can be as simple as registering your app with Google, and associating it with your website. As long as you are using the same URLs for your web content and your app content, they should be able to automatically crawl, index, and attempt to rank your app content based on your website's structure.
As a layer of extra diligence and control, you can but (don't need to) implement steps two and three.
Implement Google App Indexing – Using the App Indexing API for Android, or by integrating the App Indexing SDK
Explicitly map your web pages to their corresponding app screens – Using either a rel=alternate link element on the individual page, by referencing the app URLs in your XML sitemaps, and/or by using schema markup.
For more complete instructions on app indexing setup, check out this Google Guide.
Elizabeth Lefelstein
SEO Lead at FOX Networks Group. Founder of TEKKI.digital blog. Contributing author at SearchEngineJournal.com.